Obama Savages GOP For Taking Three Times Longer To Confirm His Judicial Nominees Than Bush's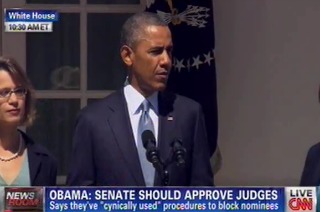 President Barack Obama delivered a fiery attack on Congressional Republicans on Tuesday for intentionally blocking his nominees to the District Court of the District of Columbia. Obama said that Republicans in Congress have taken three times longer to confirm his nominees than those of his predecessor, President George W. Bush.

Speaking before reporters gathered at the White House, Obama said that that Congress is in danger of shirking their "constitutional duty" to promptly consider presidential nominees for federal court appointments.
"Throughout my first term as president, the Senate too often failed to do that," Obama said. "Time and again, Congressional Republicans cynically used Senate rules and procedures to delay and even block qualified nominees from coming to a full vote."
RELATED Lindsey Graham Goes Ballistic On Obama Over Benghazi, Pledges To Block Nominees Until Gets Answers
"As a result, my judicial nominees have waited three times longer to receive confirmation votes than those of my Republican predecessor," the president continued.
Obama said that his nominees were all confirmed when they were afforded a confirmation vote. "So, this is not about principled opposition," he declared. "This is about political obstruction."
"What's happening now is unprecedented. For the good of the American people, it has to stop," Obama demanded.
The president said that if three of the seats on the Supreme Court were left vacant, as they have been on the D.C. court, this would be considered a judicial crisis. "If we want to ensure a functioning judiciary, our courts cannot be short staffed," Obama noted.
Watch the clip below via CNN:
> >Follow Noah Rothman (@NoahCRothman) on Twitter
Have a tip we should know? tips@mediaite.com