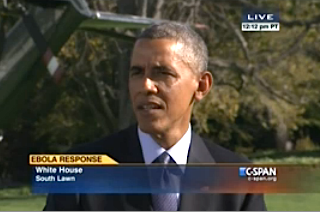 Following the release from the hospital of Nurse Amber Vinson, who is now Ebola-free after contracting the virus while treating Dallas patient Michael Eric Duncan, President Barack Obama spoke from the South Lawn of the White House regarding the federal response to the presence of Ebola in the United States. In a strong rebuke to governors like Andrew Cuomo (D-NY) and Chris Christie (R-NJ), the president stressed that any response to the situation must be "based on science" and not fear.
"We don't just react based on our fears. We react based on the facts," Obama said Tuesday afternoon. "We don't want to do things that aren't based on science and best practices because if we do, we're just putting another barrier on somebody who's already doing important work on our behalf. And that's not something that I think any of us should want to see happen."
Last week, Cuomo and Christie announced mandatory quarantines for any health workers returning to their states who had direct contact with Ebola patients in West Africa, going beyond what the CDC has recommended. After facing criticism for possibly discouraging American doctors, like Craig Spencer, who contracted the disease, to volunteer in the fight against Ebola, they have somewhat loosened those mandates.
"We know that the best way to protect Americans, ultimately, is to stop this at the source," Obama said of the work Americans are doing in West Africa. "We don't want to discourage our health care workers from going to the front lines,' the president added. "They are doing God's work over there. And they're doing that to keep us safe."
"This disease can be contained," Obama asserted. "It will be defeated, progress is possible."
Watch Obama's full speech below, via CNN:
[Photo via screengrab]
— —
>> Follow Matt Wilstein (@TheMattWilstein) on Twitter
Have a tip we should know? tips@mediaite.com