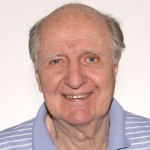 In the ruthless quest for cutting costs every which way, the practice of pooling — the assignment of a single crew to cover a routine event for  several local TV stations — is  taking hold  in newsrooms all across the country.
In some cases, it makes a lot of sense.  Who needs a fleet of helicopters to cover a car chase?  Or major capital investment in your own weather radar, when all the basic information comes out of the U.S. weather service?
In most cases, carefully handled, pooling can cover  routine events adequately, with no  loss in basic news service, and put the saved manpower to work on original, fresh stories.  But at the same time it can make redundant — read: fireable — each station's crew that would otherwise be on that job.  Good stations will naturally try to make creative use of those freed-up teams, but these days the opportunity to cut costs can be irresistible.
But in most cases,  the efficiencies of pooling can also lead to pernicious unintended consequences, warns Jill Geisler, head of the Poynter Institute's Leadership and Management Group. The concept of pooling has been around for a long time, she acknowledges, but mainly for extraordinary events that were "lengthy, visually identical. If we all shot them ourselves, we'd all have the same thing." (Think: Michael Jackson's funeral.) These organizations could have been pooling for years. Why did they choose not to? "Because at the end of the day you want to produce a newscast that is distinctive, even when you're covering the same story as everyone else. Now, the driving force of this change today is the belief that it's economical, that it will save money."
As a habit, pooling directly leads to a deterioration in the quality of journalism. Members of a pooled team have little incentive to work the rooms for contacts, chatter, and story development, since the results are common and indistinct; spinners and  promoters will stage events  (conferences, presentations) set up for unquestioning, even stenographic, coverage; pool players will lose competitive edge with non-poolers. That's a loss of quality that may be infinitesimal and unmeasurable  in each event, but as it becomes common and pervasive, will drastically affect value in journalism. Which, I guess, doesn't  really matter much to the  bean counters,  but really should get the attention of the keepers of the journalism flame.
The practice is metastasizing. "I suspect that over the next few years you're going to see more cities in which one station produces news for multiple stations to run," Geisler predicts. It has already happened — twice, on the same day last March — in a joint swap and cut deal. In Syracuse, Barrington Broadcasting's NBC affiliate WSTM simply replaced the work of its rival crew at Granite Broadcasting's CBS affiliate WTVH — just fired the whole staff, and now runs the WSTM news show on both stations. Same thing in Peoria: Granite's NBC affiliate WEEK filled the news slot at Barrington's ABC affiliate WHCH and dumped the redundant staff. Net loss: 70 jobs. (sadly apt headline: "It Doesn't Play In Peoria"). In each city the news produced by one station now appears on two. In their joint press release, Barrington CEO Jim Yaeger and Granite CEO Don Cornwell played up the deal as a "joining of forces" that "provides opportunities… to expand the breadth of local news and services."
"If the station that shuts down was just in the business of providing news to create an attractive environment for news-related advertisers, and they weren't really committed to having a staff sufficient to doing a good job of developing their own news, and they now decide even that minimum service is not worth the cost, they just enter an agreement to have their news produced by another station," says Geisler. "What you're losing is a fairly weak journalism center," she concedes, " but you are losing one voice in a community, nonetheless."
Yet the consequences of pooling among rival stations actually creates a competitive advantage for the station that can afford — or insists upon — the opportunity to compete on quality. Emily Barr, President and General Manager of ABC's WLS, the largest station in the fierce Chicago market, chose not to join the local pool. "There's already a criticism of local news, that we are all similar, that we tend to do the same stories," she explains. "The only way to distinguish one station from another is the stories it selects, and how it crafts the stories that it chooses. Those distinctions, subtle though they may be, over time, are going to make you watch one station over another. So I thought it would be a disservice to us as the leading station in the market to pool video that would then create a kind of sameness. If you have people who know the right way, and can get the right shots at the right angles and put it all together, it is a very beautiful dance. And I don't want to share that with anyone else."
Pooling may not even pay off in its avowed mission of cost cutting, notes Barr. Obviously it can't help the poolers in the ratings race, but it may be something of a false economy, too. The cost of shooting video is not the most expensive part of a news operation, she points out. "It's one small piece of the pie, and yes, pooling might allow a station to cut back a little. But photographers cost less than reporters, and there are fewer of them, so cutting two or three crews out of a station's budget, is that really going to save you a tremendous amount of money? Probably not."
Kevin Benz, News Director of News8Austin, Tex, owned by Time Warner Cable, has also opted out of the local pool, and makes the same points: "Local TV, for long enough, has taken the slings and arrows of being shallow and surface and all of those things, and that's only getting worse because packaged links are getting shorter – and now pooling video? It absolutely is a threat to the quality of journalism. Look," he says. "If four stations pool their coverage of the Texas Independence Day Parade it will look exactly the same on all four stations. But if one station, covering on its own, walking alongside the parade, found a person whose ancestors fought on the Mexican side and is now an immigrant activist? You see what I mean?"
Bill Rappleye has spent the last 60-plus years in journalism. Read more about him here.
Have a tip we should know? [email protected]