MSNBC Trounces Fox News in Ratings on Manafort-Cohen Day, Knocking Hannity to Third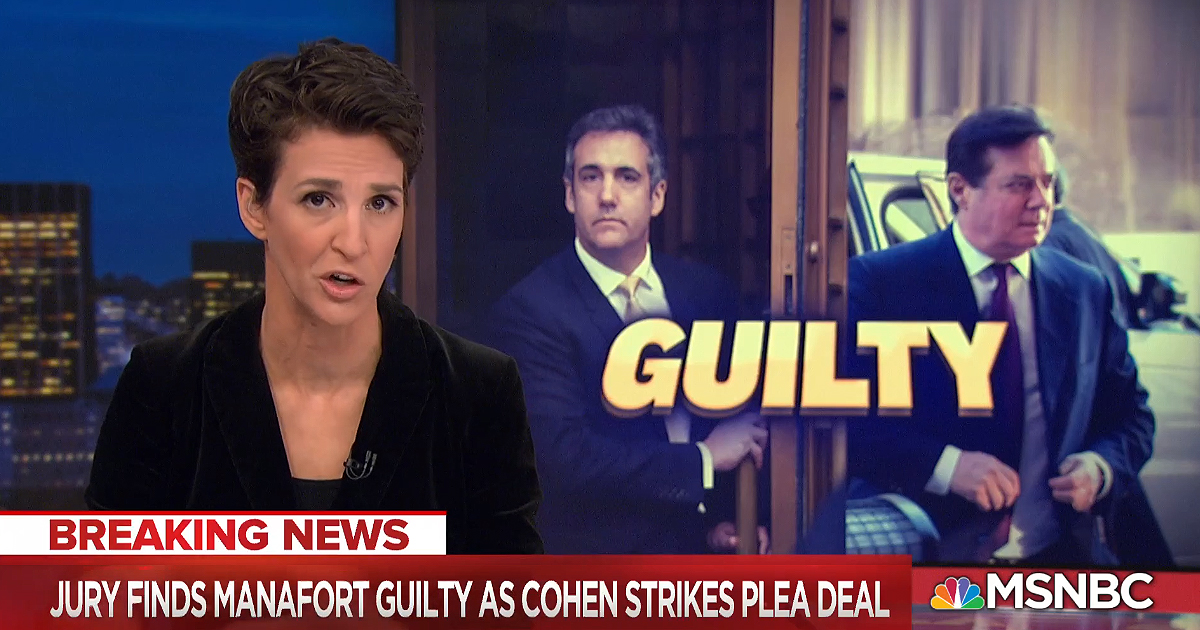 On Tuesday's big news day, following a plea deal for former Trump attorney Michael Cohen and a conviction for former Trump campaign chair Paul Manafort, the ratings crown went to MSNBC during prime time.
According to Nielsen, The Rachel Maddow Show and The Last Word with Lawrence O'Donnell took the top spots in all of cable Tuesday night, with Maddow pulling 3.893 million in total viewers and O'Donnell at 3.339 million total viewers.
That put typical ratings king Hannity in the number three spot, with 3.259 million.
Rachel Maddow was #1 across all cable viewers as well as top in the demo at 881,000. MSNBC notes that makes last night's broadcast her second highest rated in total viewers in her show history.
Overall, MSNBC cleaned up on Tuesday night. The network was number one in primetime (8-11pm) in both A25-54 at 709,000, and in total viewers at 3.296 million. From 9pm-3am, each hour of programming came out number one in total viewers.
In the demo, CNN came in second at 639,000 viewers, and Fox third with 613,000 in primetime.
It was one of the biggest news days of the year, and for MSNBC, it was one of their biggest ratings days, and a win over the competition.
Fox News still beat MSNBC in the total day ratings, averaging 1.62 million viewers to MSNBC's 1.57 million.
[Featured image via screengrab]
—
Follow Caleb Howe (@CalebHowe) on Twitter
Have a tip we should know? tips@mediaite.com