On Morning Joe, Arlen Specter Attacks Santorum For Thinking 'Women Have No Place In The Workforce'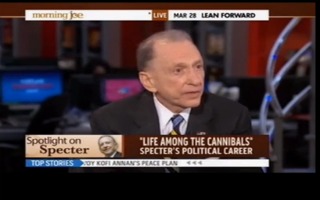 On Wednesday, former Republican-turned-Democratic Pennsylvania Sen. Arlen Specter attacked his former colleague Rick Santorum's policy positions on MSNBC's "Morning Joe while promoting his new book, "Life Among the Cannibals: A Political Career, a Tea Party Uprising and the End of Governing As We Know It."
Specter appeared lost in contemplative regret as he was introduced by a clip in which Republican presidential candidate and fellow former Keystone State Sen. Rick Santorum said on ABC News that supporting Specter's failed reelection bid in 2010 was "not one of my prouder moments" and that he knew "Arlen Specter was going nowhere."
RELATED: Specter: "Romney Has Changed Positions More Often Than A Pornographic Movie Queen"
Specter pulled no punches when asked by Joe Scarborough what positions Santorum held that prevent his former colleague from supporting his presidential bid. "[I]f you think women have no place in the workforce, if you're against contraception, if you think John Kennedy's speech in Houston separating church and state was wrong, you're too far out of the mainstream to be president," Specter said.
Specter spent most of the interview lamenting the 2010 cycle in which he lost the Democratic primary (having just flipped party affiliation from Republican) to former Navy Admiral Joe Sestak. Specter contended that he no longer had a home in the GOP which had shifted too far to the right, and referenced a number of former Republican Senate colleagues who are now in a similar position.
"If you don't have compromise, if you run on the tea party ticket pledging not to compromise, if you're afraid to cast an individual vote against the party line for fear of being challenged in a primary – as we're about to lose Dick Luger of Indiana – you don't have a functioning government," said Specter.
Specter weighed into the ongoing Republican presidential primary race as well. "The Republican party has moved so far to the right, you can't recognize Mitt Romney—what Mitt Romney will appear in October."
Watch via MSNBC below:
Have a tip we should know? tips@mediaite.com