Oops! CNN's Cuomo Scolds 'Congressman' Over D.C. Disaster Politics, Finds Out He's Not Congressman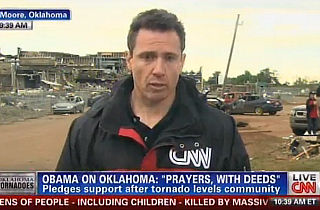 On the ground in Moore, Okla., this morning, CNN's Chris Cuomo interviewed Rep. Mark McBride about Monday's devastating tornado and the disaster relief that has begun. Cuomo repeatedly urged the "congressman" on whether his colleagues will cut through politics and bump the relief effort up on their Washington, D.C., priority list.

Only one problem: McBride is not a congressman and he has nothing to do with Washington. He's a state representative in Oklahoma.
"This is not meant as a finger-pointing of any way," Cuomo said while repeatedly referring to McBride as a congressman, pressing him on how the local schools lack storm shelters despite being in the middle of what is commonly referred to as "Tornado Alley."
After McBride explained the difficulties that lie ahead, Cuomo continued:
"I hear you. It's just that when we think about you guys in Washington and what you're fighting over and where money goes and what it's for. And then you're standing down here and seeing the need as so great, I hope that it moves up the list, congressman, because certainly it would make a difference in so many people's lives in your own community."
After a brief pause (and three whole minutes into the interview), McBride corrected the mistake: "And just to clarify: I'm a state representative. Congressman [Tom] Cole is the congressman for this area. But this is my district as state rep."
Whoops! To be fair, since Cuomo is anchoring from the field, a producer almost certainly gave him that (inaccurate) information in his ear.
"Thank you for that clarification," Cuomo said before reiterating his belief that hopefully the relief efforts are better this time around.
Watch below, via CNN:
— —
>> Follow Andrew Kirell (@AndrewKirell) on Twitter
Have a tip we should know? tips@mediaite.com