O'Reilly Challenges Rove On Hillary Ad: Aren't You Feeding WH Narrative That Benghazi Is All Politics?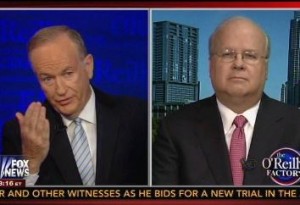 Bill O'Reilly tonight brought on Karl Rove to respond to criticism by conservative pundit/writer Bill Kristol, who said on Fox News Sunday yesterday that the ad released by American Crossroads, a group Rove has strong connections to, attacking Hillary Clinton over Benghazi is pointless and unhelpful. Rove responded to Kristol and defended the ad's release, but O'Reilly challenged Rove, asking him if running that kind of ad just feeds into the White House narrative that the criticism over Benghazi is all about politics.
RELATED: Obama Accuses Opponents Of 'Political Circus,' Calls Benghazi Talking Points Controversy 'A Sideshow'
Rove stated the ad is not meant to be a campaign, in spite of the criticisms leveled by Kristol, and insisted that the testimony provided by a State Department official last week seriously undermines Clinton's own testimony from months ago. O'Reilly asked Rove if the ad just unnecessarily politicizes Clinton before the whole truth comes out. Rove defended the ad as a "visual news release" meant to bring attention to a story that President Obama dismissed as a sideshow.
O'Reilly suggested that the ad might be helping along the White House narrative that all the scrutiny over Benghazi is just pure politics by the Republicans. Rove declared that the right shouldn't be running from these criticisms since the Obama administration trots them out for everything anyway. O'Reilly also asked if the ad was meant to "diminish" Clinton, because it would be "better for you guys" in 2016. Rove insisted that the ad is meant more as a general attack on the Obama administration lying to the public as opposed to singling out Clinton.
Watch the video below, courtesy of Fox News:
—–
Follow Josh Feldman on Twitter: @feldmaniac
Have a tip we should know? tips@mediaite.com
Josh Feldman - Senior Editor