Newseum Under Fire For Including Reporters From Hamas-Funded TV Network In Journalism Memorial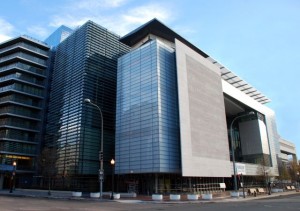 The Newseum, a D.C. museum focused on journalism and new media, has come under fire for a controversial decision to honor two cameraman who were killed while working on behalf of al-Aqsa Television, a network funded by Hamas, in its Journalism Memorial. Jewish groups were highly critical of the inclusion of the two men in the memorial and demanded that their names be removed, and now the Newseum has clarified that the memorial is currently under review to determine if it, in fact, would be appropriate to include the names after all.
The Newseum rededicates its memorial for dead journalists every year, and last week announced that Hussam Salama and Mahmoud al-Kumi, who worked as cameramen for al-Aqsa Television, in the list. That particular news organization, however, is funded by Hamas, a Palestinian organization labeled as a terrorist group by the United States and other nations.
BuzzFeed highlights the sharp criticism leveled at the Newseum by prominent Jewish groups.
The Anti-Defamation League released a statement expressing "shock and outrage at the decision by the Newseum to proceed with honoring two members of the Hamas terrorist propaganda television operation Al-Aqsa TV as part of its ongoing memorial to journalists…"

The American Jewish Committee, another major New York-based Jewish group, also put out a statement Sunday calling the move "a shocking assault on the memory of journalists who have died in conflict situations."
The Newseum has since announced that the names will undergo an internal review, which has received some praise from the Israeli Embassy.
—–
Follow Josh Feldman on Twitter: @feldmaniac
Have a tip we should know? tips@mediaite.com
Josh Feldman - Senior Editor