O'Reilly: NBC Realizing 'Their Brand Is Being Hurt' By Being 'In The Tank' For Obama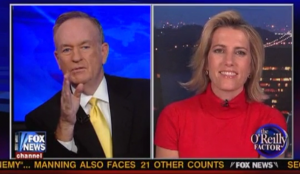 Bill O'Reilly took on President Obama's re-election campaign on Thursday night, over an ad that featured MSNBC's Ed Schultz espousing the president's stance on student loans. They're using the network's personalities in their presentation, he said — a network that is "in the tank" for Obama.
O'Reilly started by noting the apology NBC issued, which noted that MSNBC did not grant permission for the use of the clip, and that they are asking the campaign to remove Schultz's clip. Laura Ingraham joined O'Reilly to discuss the matter.
"For some of us who watch NBC and MSNBC," Ingraham said, "It is sometimes hard to distinguish between the White House or campaign press operation and especially some of the cable news hosts on MSNBC. They pretty much agree on everything."
To take something off TV and use it in a campaign without permission, O'Reilly said, is "way out of line." Then, he said, he had to ask a "difficult" question:
There are people on the Fox News Channel where the Romney campaign could take them and use them in a campaign. Fox News doesn't want that and would object to that, but if we're going to criticize MSNBC as being in the tank for Barack Obama — and they certainly are — there are people on FNC who Romney people could absolutely take what they say and put on the air. Am I wrong?
But they'd "make a stink" about using unauthorized clips, Ingraham responded. It's also a "matter of degree," O'Reilly said. With, perhaps, the exception of Joe Scarborough, he said, everybody at MSNBC is "in the tank" — but on Fox, "every show is different."
He is encouraged, though, O'Reilly added, that NBC seems to be recognizing their "brand is being hurt." As Exhibit A, O'Reilly pointed to Good Morning America "surging up" against The Today Show, because independent Americans are looking for "fair presentation."
Take a look, via Fox News:

Have a tip we should know? tips@mediaite.com