O'Reilly Touts New York Times Report On Chicago Gun Violence, Clashes With Kirsten Powers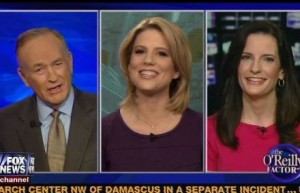 In the midst of today's hearings on guns, there was a report in the New York Times earlier today that despite Chicago's strict gun laws, there remains a staggering amount of gun violence in the city. O'Reilly and Republican Kate Obenshain touted the report tonight as evidence for why gun control doesn't work, with Democrat Kirsten Powers pushing back on their argument.
RELATED: Teenage Girl Who Performed At Obama Inauguration Fatally Shot In Chicago
O'Reilly first dismissed the day's proceedings on Capitol Hill as mostly "blather" before highlighting the Times report on Chicago's gun violence. He found it remarkable that the paper would actually "go against their editorial policy" in its front-page report. Powers clarified that the reporting side of the Times is separate from the editorial side, to which O'Reilly shot back that in general there is "no deviation" between the two.
Powers did credit the Times for its reporting, remarking how Chicago gun crime is "not discussed enough" in the national conversation on gun control. However, she was quick to point out that criminals can simply cross city lines to an area with less strict gun laws, purchase guns, and bring them right back into Chicago. O'Reilly doubted that would change with any sort of ban, given that there are already 300 million guns in the hands of Americans already.
O'Reilly then turned to testimony given by Gabrielle Giffords, describing it as a "very emotional moment." Obenshain made it clear gun rights advocates obviously sympathize with Giffords, but disagree with her on how to implement new policy. Obenshain said that the Times report shows how easily criminals can just buy guns from other criminals. Powers jumped in to point out how ultimately criminals have to get their guns from gun stores.
O'Reilly asked why the United States shouldn't just federalize all gun crimes, and specifically asked Obenshain about the country being able to rally around Giffords' cause. Obenshain said that the nation is in need of "genuine reforms" that don't include stripping the rights of law-abiding citizens.
Powers ended the segment saying that she, incredibly enough, agrees with O'Reilly on federalizing gun crimes. Both Powers and O'Reilly were stunned to find themselves on the same page.
Watch the video below, courtesy of Fox News:
—–
Follow Josh Feldman on Twitter: @feldmaniac
Have a tip we should know? [email protected]
Josh Feldman - Senior Editor