Outrage Over Middle School Yearbook List 'Worst People': Hitler, Bin Laden, And…George W. Bush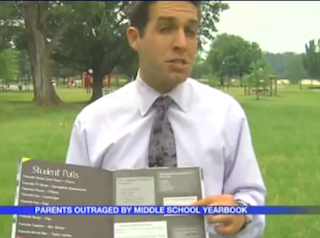 Here's an odd story from Russellville Middle School in Arkansas. There's a bit of a scandal brewing after it was discovered that this year's yearbook featured a list of the "Top 5 worst people of all time" that named Adolph Hitler, Osama Bin Laden, Charles Manson, George W. Bush, and Dick Cheney. Yikes.
Meanwhile, little seventh grader Kenny McAlary is thrilled no one's focusing on how he looks cross-eyed in his picture.
From Arkansas' Fox 16:
"Superintendent Randall Williams calls the list 'an oversight.' Parents caught it after the yearbooks were printed. The district's solution was to cover the list with tape. It didn't work.

'Really?' said Williams when told the tape could be pulled off. 'Well that's disappointing because the yearbook supplier told us this was a definite fix.'"
So, they put black tape over a section on all the yearbooks and expected the middle schoolers to not look under it? I know what just secured a place on the list of "Top 5 worst plans of all time."
So where did the list come from. Williams explains that the teacher in charge of the yearbook didn't put it in and is "very, very, very upset" about missing it before printing. Apparently some of the students pulled the thing off of the website Ranker.com, a site where people just make lists of stuff. A cursory search didn't find the exact list in question although there are a ton of "worst people" rankings that do feature members of the Bush administration like this one, this one, and this one.
Really, though, I'm just amazed at how political these kids are. They really stuck it to Bush, a guy who got into office when they were at most two.
Check out the video report from Fox 16 below and pay special attention to Williams. God, I feel bad for that guy. You can just see the frustration in his eyes as he thinks, "the school year was this close to ending. This close!"
(h/t Fark)
Have a tip we should know? tips@mediaite.com