Palin Today Interview Completely Derails: 'You Guys Don't Always Keep Your Promises!'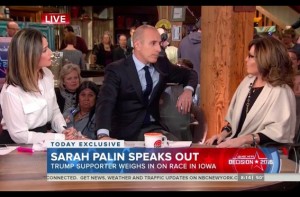 Former Republican vice presidential candidate Sarah Palin got snippy with the hosts of NBC's Today during a Monday interview, accusing them of going back on a promise not to ask about her son Track Palin.
"I want to ask you about something you mentioned on the campaign trail, which is the arrest of your son Track," Savannah Guthrie said. "You talked about it, and then you mentioned PTSD and you said that President Obama may be to blame for some of the PTSD that's out there."
"I never said that," Palin bristled (Yes, she did).
Palin snapped back that she was told that they would only be discussing politics, not her family. "That was a promise. As things go in the world of media, you don't always keep your promises, evidently."
"Do you regret the comment on that day of the endorsement?" host Matt Lauer pressed.
"What did I say that is offensive?" Palin continued. "I don't regret any comment that I made because I didn't lay PTSD at the foot of the president… If you have a specific quote, it allows the media to be credible if you guys would tell me exactly what you're talking about."
"There were no specific promises made about content of the interview," Lauer insisted. "Only that this would be your first interview since you endorsed Donald Trump."
"Well, I was told that this interview is about the caucus tonight in Iowa," Palin said. "And on who will it be to put America back on the right track and restore constitutional government that we're lacking today and we so need, and I said, 'Right on, I'll talk about that, sure.'"
Watch above, via NBC.
[Image via screengrab]
——
>>Follow Alex Griswold (@HashtagGriswold) on Twitter
Have a tip we should know? tips@mediaite.com