Pastor Rick Warren To CNN: Churches Are 'Probably' Responsible For Negative Attitudes Towards Gays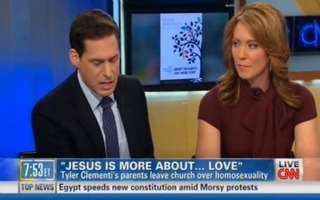 Appearing on CNN's Early Start Thursday morning, Pastor Rick Warren told host John Berman that churches are "probably" responsible for some of the negative attitudes towards gays in America.
Warren was on CNN to promote the latest version of his book, "A Purpose Driven Life," a devotional Christian book. Warren took the opportunity to again underscore his opposition to same-sex couples, after appearing on Piers Morgan Tonight Tuesday and comparing being gay to taking arsenic and punching someone in the nose.
Berman then asked Warren about the suicide of Rutgers student Tyler Clementi. Clementi was found dead in the Hudson River after his roommate secretly videotaped him with another man. Due to the tragedy, his parents left the Evangelical church, saying they felt the church itself was the cause of their estrangement from their son. Berman quoted Clementi's mother as saying, "At this point, I think Jesus is more about reconciliation and love. He spoke more about divorce than homosexuality, but you can be divorced and join a church more than you can be gay and join churches."
Warren agreed, calling it a "very good point" and admitted that although Christians are "not allowed to hate anybody," some churches aren't so great at teaching this message. Warren went on to talk about some of the more positive aspects of the religion, noting that he felt he is "commanded by Jesus Christ to love everyone, to show respect to everyone." The love fest was quickly cut short, however, as Warren continued,"There's a difference between acceptance and approval. God accepts me, accepts you unconditionally. He doesn't approve of everything we do."
After being asked by Berman whether some American churches are responsible for negative attitdues towards gays, Warren responded,
Probably, yeah. In fact, there are some people who are extremely violent or hateful. And hate is never of God, never.
Watch the clip below, via CNN:

h/t ThinkProgress
Have a tip we should know? tips@mediaite.com