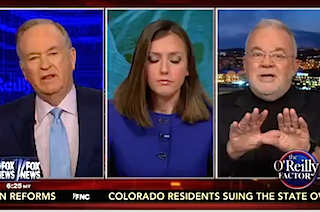 Last night, Bill O'Reilly used the opening segment of his show to declare that the U.S. is in a "holy war" against extremist groups like ISIS. Tonight, he was confronted on that rhetoric by Revered Jim Wallis, who has worked as a spiritual adviser to President Barack Obama.
"I think they're going take advantage of your narrative of a 'holy war,'" Wallis told O'Reilly. "I would never use that language. And faith leaders are going to reject the narrative of a holy war, Christian [vs.] Muslim." He said his solution to the problem of terrorism would have more to do with helping Muslim leaders defeat it from "within" than it would with bombing those countries from "without."
"The countries in the region have got to live with their own future," Wallis continued. "They've got to solve this. We can help in particular ways, but another American war —" At this point, O'Reilly cut him off and accused him of "wasting our time" and offering no real solutions.
"Righteous people would behead you, your family, and everybody you know, and you would be saying, 'You know, the Muslim people have to deal from it within,'" O'Reilly said. Before leaving the segment, the host told Wallis, "If your philosophy was in place in World War II, we'd all be speaking German." He then copped to being "obnoxious" and apologized.
Watch video below, via Fox News:
[Photo via screengrab]
— —
>> Follow Matt Wilstein (@TheMattWilstein) on Twitter
Have a tip we should know? tips@mediaite.com