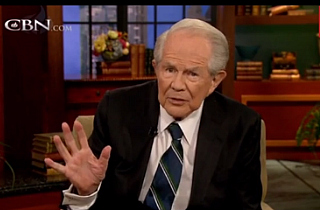 After televangelist Pat Robertson warned his 700 Club viewers of San Franciscan gay rights activists deliberately spreading the AIDS virus by cutting their victims with a blade on their ring, Christian Broadcasting Network attempted to purge the Internet of video evidence.
In a response to a viewer email asking whether it was wrong for a church not to inform her that a man she was transporting to worship services is "dying of AIDS," Robertson confessed that while he had previously believed the autoimmune disease was transmitted by "saliva and other things," it is now known to be through "sexual contact."
"What to say if you're driving an elderly man whose got AIDS? Don't have sex with them," the televangelist said. "Unless there's a cut or some bodily fluid transmission, I think you're not going to catch it."
Co-host Terry Meeuwsen briefly shared her thoughts, and then Robertson continued on to say:
"There are laws now, I think the homosexual community has put these draconian laws on the books that prohibit people from discussing this particular affliction, you can tell somebody you had a heart attack, you can tell them they've got high blood pressure, but you can't tell anybody you've got AIDS."
But before Meeuwsen could end the conversation, Robertson went off the rails:
"You know what they do in San Francisco, some in the gay community there they want to get people so if they got the stuff they'll have a ring, you shake hands, and the ring's got a little thing where you cut your finger. Really. It's that kind of vicious stuff, which would be the equivalent of murder."
Watch the full exchange below, as first clipped by progressive activist group People for the American Way's media-watching outfit RightWingWatch:
After the story made the rounds on the web, RightWingWatch's video of the exchange was removed from YouTube under a CBN copyright claim. The "AIDS ring" portion of the interview was also conspicuously removed from CBN's online version of the 700 Club broadcast.
See the hilariously obvious edit below, around 39:30 into the video:
And of course, Robertson thinks the media is simply taking him out of context. He sent the following statement to Atlantic Wire:
I was asked by a viewer whether she had a right to leave her church because she had been asked to transport an elderly man who had AIDS and about whose condition she had not been informed. My advice was that the risk of contagion in those circumstances was quite low and that she should continue to attend the church and not worry about the incident.

In my own experience, our organization sponsored a meeting years ago in San Francisco where trained security officers warned me about shaking hands because, in those days, certain AIDS-infected activists were deliberately trying to infect people like me by virtue of rings which would cut fingers and transfer blood.

I regret that my remarks had been misunderstood, but this often happens because people do not listen to the context of remarks which are being said. In no wise [sic] were my remarks meant as an indictment of the homosexual community or, for that fact, to those infected with this dreadful disease.
Could this be Robertson's Waterloo? Likely not. Considering the many, many bizarre things he has said in the past on a cable channel like Christian Broadcasting Network without much more than a collective Oh, Pat Robertson, you're so crazy response.
[h/t RWW]
— —
>> Follow Andrew Kirell (@AndrewKirell) on Twitter
Have a tip we should know? tips@mediaite.com