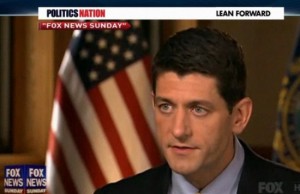 The Math has become an increasingly central character in Republican presidential candidate Mitt Romney's campaign, with Romney, running mate Paul Ryan, and the campaign's surrogates consistently unable to reveal anything about it. The Math is supposed to be able to explain how Romney and Ryan will offset a $5 trillion tax cut by eliminating loopholes and deductions, without raising taxes on the middle class, while also reducing the deficit. On Monday night's PoliticsNation, Rev. Al Sharpton inadvertently sussed out the devil in Ryan's lack of details.
In John Steinbeck's Of Mice and Men, the character of Lenny is a not-so-gentle giant who has a bad habit of playing too rough with things like mice, but then keeping the poor, dead critters in his pocket to pet at his convenience. Lenny knows he's not supposed to keep dead mice in his pockets, and whenever his companion, George, catches him with one, he scolds Lenny and makes him throw it away, but Lenny just can't resist the little furry things.
The Math is the mouse in Paul Ryan's pocket. On Monday night, PoliticsNation host Al Sharpton led off a segment by playing a few clips from Ryan's Sunday interview with Chris Wallace, and the numbers just suddenly clicked for me. About a minute in, listen to what Ryan says to Wallace as he grills him about what the 20% across-the-board tax cut will cost:
"It's revenue neutral," Ryan says impatiently, and when Wallace allowed that "I'm just talking about the cut. We'll get to the deductions, but the cut in the tax rates…" Ryan replied that "the cut in tax rates is lower all american tax rates by 20%…"
Wallace again asked him "How much does that cost?"
Ryan responded, again, "It's revenue neutral."
When pressed again, Ryan promised to "get to" the deductions Wallace is so obsessed with, but only because he feared Wallace had caught the scent of that mouse in his pocket.
Ryan doesn't think a 5$ trillion tax cut is revenue neutral because of some loopholes and deductions that he knows he'll never get Congress to touch, or because of the way he plans to gut federal spending (that's the part that's supposed to reduce the deficit). Ryan thinks that 20% across-the-board tax cut is revenue neutral because he believes it will lead to $5 trillion in added revenue, all by itself. There's The Math: (-$5 trillion)=$5 trillion. Lots of Republicans believe this, but have become wary of the revulsion they face when they take that mouse out of their pocket, and Paul Ryan is no exception.
Later in Rev. Al's segment, my pal Meghan McCain vented some of her own frustration at Ryan's lack of specifics. I'm glad I could help.
Have a tip we should know? [email protected]