Peter Schiff Takes Mediaite Inside His Daily Show 'Hit Job'
Rothman: Peter Schiff Takes Mediaite Inside His
Daily Show
'Hit Job'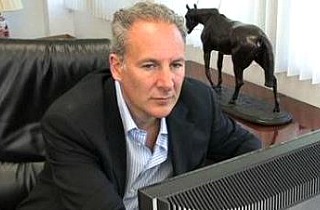 "They're just looking for words they can put together like a Frankenstein's monster," Peter Schiff, finance expert and recent guest of The Daily Show, told Mediaite. "They wanted to put my words together to create a monster that everyone would hate."
Schiff first appeared on The Daily Show in June of 2009 where he joined Jon Stewart for an in-person interview. "I came there expecting him to be hostile," Schiff said. "He's liberal and I'm libertarian conservative, so I expected it to be confrontational." He said he was pleasantly surprised to discover at the time that he was greeted warmly and that the audience was not as hostile to him and his views as he expected.
It is with this prior experience that Schiff agreed to sit down for an interview to serve as the opposing view in a debate about increasing the minimum wage. He knew he could be walking into a trap, as he revealed, "but you remain optimistic that maybe it's not."
And Schiff had reason to be optimistic. A lengthy email he released on Tuesday shows that a The Daily Show producer offered repeated assurances that he would not be taken out of context. "We NEVER edit out of context," the staffer wrote. "Meaning we never ever show responses to a question we never asked."
"[R]est assured," the producer repeated. "NOTHING will be edited out of context."
But that is exactly what happened, Schiff said. He called the final product a "hit job."
"I came there with my brother and they refused to let him sit in the room with me," he told Mediaite. "They said, 'It's got to be Peter in the room all by himself.' That was a clue they didn't want any witnesses."
Schiff revealed that he sat down with correspondent Samantha Bee for four hours, in which he described at length the political origins of the minimum wage and the adverse effect it has had on youth unemployment and productivity. He says that it was more than three hours into the interview when they finally prompted Schiff to offer the segment's infamous soundbite.
According to Schiff, Bee randomly picked the $2-per-hour wage, and asked just what kind of people would work for that minuscule sum. The financial commentator said there were two types of people who would work for that figure. His first example — a response which was edited out of the package that aired on The Daily Show — were unpaid interns. Interns like the reassuring Daily Show staffer who had revealed to Schiff their prior role before transitioning into a paying job with Comedy Central.
RELATED: Peter Schiff Releases Daily Show Email, Accuses Them of 'Lying' to Him
Schiff says he told the reporter and producers that he was certain the unpaid interns they currently have working on staff would rather be working for $2 than $0, and they may not have been forced to take out tens of thousands in student loans in order to legally qualify for an internship program compensated with college credit.
The second group, Schiff said only after a painfully long pause, pleading with Bee for the "politically correct" term, but landing on: "The mentally retarded." Of course, this response made it into the final package and has resulted in threats to Schiff and his family as a result.
"The only word choice that I can regret is actually saying 'mentally retarded,'" Schiff told Mediaite. "But I only said it because I couldn't think of the proper word." However, Schiff does not regret the comment – the mentally disabled are already legally exempt from minimum wage laws. How does Schiff know this? Beyond his expertise on the issue, Schiff revealed to Mediaite that his wife's 65-year-old aunt suffers from Down syndrome.
"She gets $2.50 form the company she works for," Schiff said. "If the minimum wage applied to the intellectually disabled, none of them would have jobs." He added that the largest employer of the mentally disabled is Goodwill, a firm which pays some of its disabled employees as little as $0.10 per hour.
"I told [Bee] that people who are severely mentally retarded, they're not working for the money," he continued. "She asked how they support themselves, and I said they can't support themselves."
"My wife's aunt," Schiff continued, "she's making a contribution. She has pride. She has meaning in her life. She has something to do. She has purpose. Isn't that a good thing that the minimum wage doesn't apply?"
Schiff revealed that, while he half-expected Bee to provide him with the "politically correct" term, he was not surprised that she didn't. He did not, however, expect them to use that clip. Along with written assurances from a producer that he would not be taking out of context, Schiff alleges that he was given repeated verbal assurances to that effect over the course of that interview as well.
His hopes were further reinforced when he read a blog post authored by his ideological counterpart in that segment, Barry Ritholtz. The equities analyst revealed on his blog that he was afforded the opportunity by Bee and producers to do multiple takes in order to perfect what he was trying to say.
"All of the answers were recorded following each question in one continuous segment," Ritholtz wrote. "When I screwed up or ruined a shot, they had to go back to ask the question again, with the response immediately following in the same shot."
"In other words, they don't cut up your answers or pull them out of context," he continued. "Question, Answer, Question, Answer. I assume this keeps litigation from angry remote guests to a minimum."
That and an ironclad release.
Schiff was shocked when he saw the finished product. "They took little pieces and rearranged them, all designed to make me look bad," he added with an unmistakable hint of betrayal.
"They succeeded in making me look bad," he asserted. He adds that he and his brother have requested that The Daily Show release the entire four-hour interview, though they are not holding out much hope that this will occur.
While Schiff said that he thinks both Stewart and The Daily Show are "funny" and that the host has a "great sense of humor" and is a "nice guy," he asserted that the program underserves its audience.
He had the harshest words for the members of the media. Save for a post on AutismDailyNewscast.com –- a group he reached out to in order to correct the record –- he says Mediaite was the only publication that reached out to him for comment.
Schiff noted that he was most shocked that a CBS affiliate in Connecticut –- a state where he ran for the U.S. Senate in 2010 — would reproduce his comments from that interview without reaching out for context.
"I can maybe forgive the audience, but reporters? How can they report what I said in a highlighted Daily Show clip in which the aim of The Daily Show is to make me look as bad as possible?" he asked. "How can they report that as actual news? Did those words come out of my mouth? Of course, but not in that context."
"I don't know why people go on," Schiff said of the program. "Before I went on, I was thinking, I know this subject cold and I can do a great job of explaining it. Who could be in favor of a law that makes it illegal to work?"
"I would say to people of a libertarian conservative position on an issue, do not do a taped interview," Schiff added. "You're going to come out looking really bad. No matter what you say, no matter how eloquently you answer a question, your answer is not going to be what you said."
Mediaite reached out to The Daily Show and Viacom for comment but had not yet heard back from them as of the time of this publication.
Watch the original The Daily Show segment below, via Comedy Central:
[Photo via AltMarket.com]
— —
> >Follow Noah Rothman (@NoahCRothman) on Twitter
Have a tip we should know? tips@mediaite.com