Piers Morgan And Alan Dershowitz Get In Shouting Match With Other Panelists Over Gun Control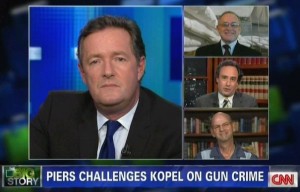 Piers Morgan revisited the gun control debate on his show tonight in the wake of Sunday's shooting at a Sikh temple in Oak Creek, Wisconsin. He and panelist Alan Dershowitz kept making the case that the United States needs to seriously start pushing for more gun control laws, getting in heated argument with the two other panelists on the show.
RELATED: Piers Morgan And Alan Dershowitz Get In Heated Argument With Anti-Gun Control Advocate
Morgan pointed to the shootings in Arizona, Colorado, and Wisconsin as a pattern of mentally disturbed individuals acquiring guns legally. Dershowitz admitted that gun control would not solve everything, but of all the possible political responses to these tragedies, gun control would have the "least negative impact on civil liberties of Americans."
Morgan asked panelist David Kopel how gun rightss advocates could think that after two mass shootings in the United States in the span of less than a month, no action needs to be taken on gun control. Kopel urged against "lash[ing] out in persecution" against all gun owners, and said that any change in law would have to make sure there are ample protections for law-abiding citizens who want to carry guns.
strong>Dan Baum argued that in the midst of the gun debate, no one is thinking to ask gun owners for their perspective, He said that the mentality of gun owners is that they "identify very strongly" with their firearms, and they do not take kindly to individuals (Baum used Dershowitz as an example) and politicians who say they cannot be trusted with guns. Dershowitz responded by comparing gun laws to speed limits: very few people who go beyond the speed limit kill people, but they are in place to prevent such things from happening.
Morgan asked how, if serious gun control is to happen in the United States, the Second Amendment culture can be changed. Kopel claimed that the crime rate in England shot up after implementing gun control, but Morgan interrupted him to assert that his claim was "completely untrue." And as for claims that Norway still had a mass shooting despite strict gun control laws, Morgan noted that aside from that tragic incident, Norway generally has very few gun deaths.
On the point of crime in England, Kopel made the argument that there are more burglaries in the U.K. because of its gun control laws. Morgan called that a "fatuous argument," to which Kopel shot back that he has not seen the studies. Morgan found Kopel's entire point to be ridiculous.
"Trying to draw some parallel between the burglary… rates in Britain because we don't have guns, what would you suggest? We go and arm everyone in Britain to kill everyone that burgles their house? Come on!"
Dershowitz wrapped up the segment by insisting that gun control is the "single most effective way to reduce crime," and declared that "the pervasiveness of guns in our society is destroying America."
Watch the full segment below, courtesy of CNN:
—–
Follow Josh Feldman on Twitter: @feldmaniac
Have a tip we should know? tips@mediaite.com
Josh Feldman - Senior Editor