Piers Morgan Confronts Robert Zimmerman, Jr. Over Controversial Tweets In Heated Interview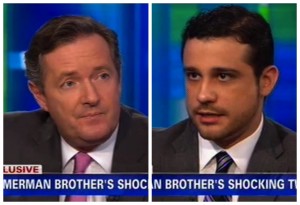 Piers Morgan scored quite the interview on his show tonight, Robert Zimmerman, Jr., the brother of Trayvon Martin shooter George Zimmerman, who has gotten quite a bit of media attention for tweeting out a picture pointing out similarities between Martin and De'Marquise Kareem Elkins, the Georgia teenager accused of killing a 13-month-old boy. Morgan confronted Zimmerman, telling him that his tweets connecting the two were "incendiary" and "bordering on outright racism." Zimmerman defended himself while apologizing for how his tweets came across.
RELATED: George Zimmerman's Brother Pimping Comparison Of Trayvon Martin And Alleged Georgia Baby-Killer
Morgan found it shocking that he would link this "gruesome" case of a teenager allegedly killing an infant to Martin, who was unarmed when he was shot. Zimmerman told Morgan he was misinterpreting his views, telling him that Martin "chose to portray himself in a certain way." Morgan interrupted him and told him to explain that point.
Zimmerman said the media never showed any questionable pictures of Martin. Morgan found it amazing how he could think "a stupid picture of his Facebook" was important, and told Zimmerman that "you cannot make that analogy without people saying you're a racist." Zimmerman shot back that all sorts of negative pictures about his brother were all over the media, but Martin's social media was "off-limits."
Morgan continued to press Zimmerman on his tweets, and Zimmerman called him out on his constant interruptions. He stated unequivocally that his main point was that the media assumed an unfair presumption of guilt in his brother's case.
Watch the video below, courtesy of CNN:
—–
Follow Josh Feldman on Twitter: @feldmaniac
Have a tip we should know? tips@mediaite.com
Josh Feldman - Senior Editor