Piers Morgan Grills Romney On Gun Control: 'What Does It Take To Change The Gun Culture?'
Morgan Grills Romney On Gun Control: 'What Does It Take To Change Gun Culture?'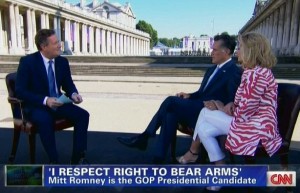 In a wide-ranging interview on CNN tonight, Mitt Romney addressed the issue of gun control and the national debate surrounding it in the wake of last week's shooting in Aurora, Colorado. Romney told Piers Morgan he does not believe that the United States needs any new gun laws, and the stronger focus should be on mental health and treating disturbed individuals.
RELATED: Mitt Romney's Solution To Gun Violence: 'Changing The Heart Of The American People'
Morgan told Romney he was "disappointed" that there have been no overwhelming political reaction to shootings in the United States from Aurora to last year's shooting that injured Congresswoman Gabrielle Giffords. He asked Romney, "What does it take to change the gun culture?"
Romney dismissed the idea that gun regulation would lead to less gun violence, and said he believes that "no particular change in [gun] law" is going to keep people like James Holmes from carrying out such horrible acts. Morgan brought up the strict gun control laws in England and the low number of gun deaths in the country, to which Romney responded by bringing up the Second Amendment and arguing that the focus should be on helping people with mental health issues.
Morgan pointed out that Holmes had no history of mental illness or criminality, adding that he found it remarkable how much ammunition Holmes was able to acquire legally. Romney argued that while the United States has "laws against bombs and making bombs," Holmes was able to get his hands on explosives, which were found by authorities in his apartment.
Morgan reminded Romney that as governor of Massachusetts, he successfully pushed for an assault weapons ban. Romney explained that he was able to find a compromise between the pro-gun and anti-gun lobbies, and when asked if he would pursue a similar compromise with President Obama on the national level, Romney insisted, "I don't support new gun laws in our country."
Watch the video below, courtesy of CNN:
Have a tip we should know? tips@mediaite.com
Josh Feldman - Senior Editor