Piers Morgan Hits Back At Larry King: He 'Needs To Button It…I'm A Journalist And He's Not'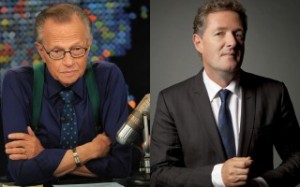 Recently, when asked about his CNN successor Piers Morgan, Larry King offered his view of how his interviewing approach differed from Morgan's. Particularly, he noted, Morgan's show is "a lot about him." Asked about King in a recent wide-ranging POLITICO interview, Morgan fired back: "He's talking nonsense."
RELATED: Larry King Takes Swipe At Piers Morgan: 'Show Is A Lot About Him…I Don't Work That Way'
In the interview, Morgan dubbed himself as "deliberately provocative" — a characterization many fans and critics alike would agree with. He has "a unique ability to rub certain people the wrong way."
But he also wasn't shy in expressing his opinions about some others in the media. "Andrew Sullivan is a dick," Morgan said:
"He's an extremely bitchy, deeply unpleasant, rather confused individual who for whatever reason despises the very spittle I put on the floor. Well, good luck to you, mate. But I couldn't give a toss."
And then there's his famed predecessor…
"I've tried to be very respectful about Larry; he's a legend, and I feel very proud to have followed him. But I think he just slightly needs to button it, because he's talking nonsense. The reason we're different is, I'm a journalist and he's not. Larry isn't a journalist, never has been."
For his part, King took to HuffPost Live to express his sentiments about Morgan, whom he said is "very different from me."
"The show is a lot about him as much as the guests," King said. "I used to make the guests the star of the show…He's so different from me, it's very hard to compare styles I think. I just, I don't work that way."
Elsewhere in the POLITICO piece, Morgan also spoke about the strong stance he's taken on gun control as well as the future of CNN with Jeff Zucker taking the reins. He said he "absolutely" believed one day he could compete with those like Bill O'Reilly and Rachel Maddow.
"Bill O'Reilly is like a comfortable pair of shimmeringly angry slippers, but you know every night what you're going to get," Morgan said. "It's consistent. It hits all the right buttons if you like that kind of thing. And while I don't agree with a lot of it, I thoroughly enjoy watching it and can admire the professionalism. The same with Rachel Maddow, I can watch it without agreeing with some of the things she says, but absolutely admire the professionalism."
Have a tip we should know? tips@mediaite.com