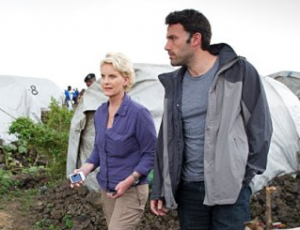 Ben Affleck recently got Cindy McCain on the phone–and it wasn't a misdial. McCain, of course, figured she was getting Punk'd. "She thought it was a prank call," Affleck told ABC's Jake Tapper, in a story set to air on tonight's World News.
That call, Affleck says, was an invitation for McCain to join the actor on a trip designed to get attention for the suffering of the people in Congo, an issue the two will testify about tomorrow on Capitol Hill. "Politics doesn't have anything to do with this. This is about human lives," McCain said.

Tapper reports Afflect made his first trip to Congo five years ago, and the star says there's a moral responsibility to pay attention to the suffering there and to get involved. "People are dying, really dying and have been for a long time," Affleck said. "Fifteen years, three-plus million people have died. I don't know that I can make any more argument about why you should pay attention to this."
Affleck and McCain said that there's a need for a special advisor to the region who can coordinate the efforts of governments and western aid organizations. "It doesn't need a giant check," Affleck said. "It needs someone to help shepherd this process along."
Is this the beginning of a fast friendship? "I'd say we have, actually, frankly, quite a bit in common. I don't know if, maybe she doesn't want me to say that out loud," Affleck joked.
Watch it here, from ABC:
Have a tip we should know? tips@mediaite.com