President Obama Tells Telemundo Navy Yard Shooting Shows Need for Tighter Background Checks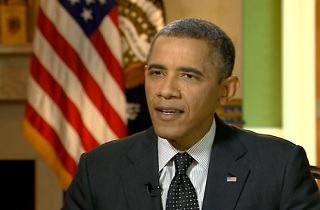 As Monday's mass shooting at the Washington Navy Yard kick-starts the dormant debate over gun regulation, and facts about deceased Navy Yard shooter Aaron Alexis continue to unfold, President Obama weighed in during an interview with Telemundo's Jose Diaz-Balart. Asked if mass murders like this are now a fact of life, the President cited public support for certain gun laws, and argued that the Navy Yard tragedy shows "we do not have a firm enough background check system."
Citing several recent mass shootings, including Monday's, Diaz-Balart asked "Are we condemned, in this country, to live in a country where massacres are just part and parcel of our daily existence?"
"Well, we don't have to be," the President replied. "And the overwhelming majority of the American people understand that there's some common sense gun safety laws that we can put in place that could prevent some of this tragedy from happening."
He added that "Initial reports indicate that this is an individual who may have had some mental health problems. The fact that we do not have a firm enough background check system is something that makes us more vulnerable to these kinds of mass shootings."
Several sources have already confirmed that Alexis passed a background check in order to purchase the shotgun used in Monday's massacre, despite several prior arrests involving guns, and a long history of mental problems.
The White House, though, seems to be standing pat on the actions it took earlier this year, and placing the onus on Congress to enact the gun laws that polls show enjoy overwhelming public support. At Monday's White House briefing, Press Secretary Jay Carney appeared to dampen the idea that the Navy Yard shooting might occasion a renewed push for legislation by this White House.
In this excerpt of Telemundo's interview with the President, he also discusses the ongoing Syria crisis, and says he won't stop deportations of DREAM-eligible kids' parents while Congress works out comprehensive immigration reform.
Here's the excerpt, from NBC Latino, courtesy of Telemundo:
Have a tip we should know? tips@mediaite.com