Press Becomes Critical of Obama as Hillary, Biden Take Center Stage in Ukraine Crisis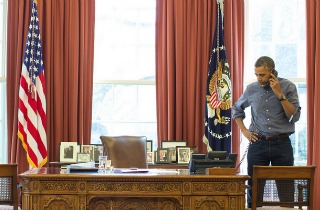 With the clouds of war gathering in Eastern Europe, Vice President Joe Biden was urgently dispatched to NATO member states in Central Europe and the Baltics to reassure the West's vulnerable allies that Russian aggression in Ukraine will not stand. After calling Russia's invasion and subsequent annexation of the Crimean peninsula a "land grab," Biden was backed by former Secretary of State Hillary Clinton who told an audience in Canada that Russia's actions were flatly "illegal."
Clinton slapped down academic elites keen to lend credence to the Kremlin line by blaming Western actions for Russia's aggression. "This is a clash of values and it's an effort by Putin to rewrite the boundaries of post-World War II Europe," Clinton declared bluntly. "If he's allowed to get away with that, then I think you'll see a lot of other countries either directly facing Russian aggression or suborned with their political systems so that they're so intimidated, they're in effect transformed into vassals, not sovereign democracies."
President Barack Obama, in stark contrast to his closest political surrogates, released his March Madness tournament brackets on Wednesday -– an annual event which is this year part of a ubiquitous effort to get young people to enroll in the Affordable Care Act. This month, Obama's soft media strategy, aimed directly at young potential insurance consumers, has had him submitting to interviews from celebrities like Zach Galifianakis and Ryan Seacrest. The President of the United States even burnished his hip and fashionable credentials by dishing about how he thinks he looks in jeans to Ryan Seacrest.
The president has not entirely ignored the crisis unfolding in Eastern Europe, but he not taken the lead on the issue since he delivered an impromptu address the press from the James Brady Briefing Room on February 28 as Russia's invaded the Ukrainian peninsula. More than two weeks into the worst crisis in Europe in the 21st Century, the hard news press is beginning to take notice of the president's flippancy and they do not like what they see.
The press seemed poised, rightly, to reserve judgment about how the president would handle the crisis in Europe ahead of Russia's formal annexation of Crimea. The Washington Post editorial board on March 15 urged the West to pursue economic and diplomatic sanctions against the Russian government and Russian officials. "If the dons are left untouched, Western sanctions will have little effect," the editorial warned.
They recommended targeting the Russian oligarchs, the true power brokers in Russia. And the White House did impose a modest set of sanctions on Russian individuals, but they targeted only governmental officials. Those officials greeted the sanctions as warmly as did the Russian stock market. The Post's editorial board appropriately scolded Obama for imposing weak sanctions which they wrote amounted to a "slap on the wrist."
Now, The Washington Post's political and reporting establishment is beginning to turn a critical eye to Obama's handling of the crisis. "The Russians deployed quickly in the hours surrounding reports of their initial movement on Feb. 26," observed veteran reporter and opinion writer David Ignatius. "Two days later, when President Obama warned that there would be "costs" for invading Crimea, the Russian forces were already in place and the intervention was nearly a fait accompli."
That paper's Diplomatic correspondent Anne Gearan sounded the clearest alarm on Wednesday when she appeared on MSNBC and warned that the White House, by signaling that it is so committed to de-escalating the situation in Europe that it is willing to accept the new status quo in Crimea, is establishing a "dangerous precedent."
"There are lots of esoteric frozen conflicts, in State Department speak, scattered throughout the former Soviet space that potentially, if Putin wanted to, having seen his opportunity and taken it here, he could do the same again," Gearan warned. "And that's really the great fear is that he will start picking these off one by one if there's nothing — no meaningful way to stop him." Watch below:
The voting public, too, is unimpressed with Obama's performance thus far. 43 percent of registered voters said they disapproved of Obama's handling of the crisis in Ukraine to 42 percent who approve in a recent Washington Post/ABC News poll. But that seemingly even split is more troubling for the White House when the results are broken down. Only 37 percent of self-described independents approve while 48 percent disapprove of Obama's management of the crisis. 42 percent of women disapprove while only 39 percent approve. Just 40 percent of those making less than $50,000 per year, the targets of so much of the Democratic Party's election year political messaging, back Obama's approach to the crisis. 44 percent disagree.
Some of the president's Republican critics, like former GOP presidential nominee Mitt Romney, have taken the events in Europe as an opportunity to issue a self-satisfied "I told ya so," and, in doing so, have exposed a partisan rift in a crisis too grave to be politicized. Other Republicans, like Rep. Paul Ryan (R-WI), have more constructively advocated for an additional, robust set of sanctions. But Republicans are easily dismissed by this White House. Obama's constituencies in the political press and the electorate are not, and both are beginning to display their dissatisfaction with Obama's management of this potential turning point in history.
[Photo via The White House]
— —
> >Follow Noah Rothman (@NoahCRothman) on Twitter
Have a tip we should know? tips@mediaite.com