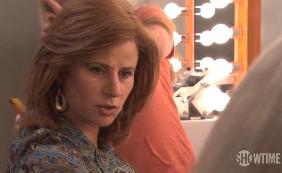 Saturday Night Live has briefly touched on impressions of Rachel Maddow and Arianna Huffington.
But with last night's third season premiere of Tracey Ullman's State of the Union on Showtime, we finally got an answer to the question – what would happen if Maddow, Huffington, Meghan McCain, Christiane Amanpour and Rep. Barney Frank all hung out in a make-up room?
Ullman plays dozens of characters in each episode, including the five news hosts and guests in the make-up room sketch. Ullman was promoting her new show on Regis & Kelly, and a clip of the Maddow/Huffington exchange aired. "This is the least favorite thing about having my own TV show, having to get made up" says Ullman playing the MSNBC host. Then Ullman cut in as Huffington, complete with dead-on accent accuracy: "I haven't stopped talking since Morning Joe, when I picked apart the health plan debacle with Mika Brzezinski."
In Showtime's preview for the season, we see more of the back-and-forth, including a bit of Huffington and McCain's conversation. "Meghan, you look like a very attractive, young…Democrat," says Huffington, angering "McCain." "I'm not a Democrat! I'm not, I'm not," responds Meghan. "Please do not call me one on air or I'll get really, really pissed."
Ullman is not afraid to portray characters that are slightly more out of the mainstream – and she's certainly not afraid to touch on politically in correct territory. For example, there's a Bernie Madoff jail scene in the first episode. You can imagine where that goes. The show airs Mondays at 10:30pm.
Here's Ullman's appearance on Regis & Kelly with a clip from the Maddow/Huffington sketch, and below, the Showtime season preview:


In this preview, see the Huffington/McCain exchange:


—–
» Follow Steve Krakauer on Twitter
Have a tip we should know? [email protected]