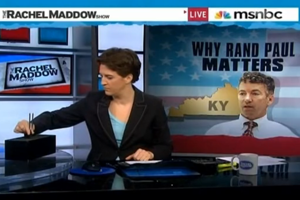 After a tense exchange that dominated the news cycle yesterday, Rachel Maddow had a few things to say about her extended interview with Kentucky Senate candidate Rand Paul. For starters, she's sorry to her sponsors for blowing through her commercial breaks during the interview. And also, she'd like to show some examples of the racist practices that Paul expressed qualms about making illegal on her show yesterday.
Calling her interview a "tuning fork moment" for illuminating an opinion that rarely comes into the mainstream, Maddow admitted that the interview "did not go at all as I had expected" and "for the record, I had other stuff to ask Rand Paul last night, but we ended up stuck on that issue for 20 minutes… I wasn't able to get a definitive answer from him on it."
She made out of the interview a teachable moment, showing images of the civil rights era and explaining that, while Paul specifically noted that he was against public racism, she believed privately owned businesses were capable of doing the same amount of damage. She also pointed out that condemning the violence, as Paul did, does not quite get him out of the fire, since many on the side of corporate racism were not violent at all, but prominent thinkers. "The violence is what we all remember about that era," she explained, "but there was also a very fervent intellectual and political side to segregationist forces, as well."
For most of the segment, Maddow conducts a thorough and measured explanation for why she believes Rand Paul is wrong and, furthermore, why it is a matter of national significance. Here is where she loses it, though: she equates Paul's views with those expressed by William F. Buckley that whites are "the advanced race," and put up the ugliest face of American discrimination against Paul's theoretical libertarianism. Taking so much time out of her show to explain that Paul was not a white supremacist, only to lump him in with white supremacists to embellish her point, undermines how objectively she framed the argument before making it. She does, however, bring it back quite eloquently:
"'Libertarian' is not a five-syllable shorthand word for 'Republican.' It is a really specific worldview about the appropriate reach of federal law in this country, and when you are auditioning for a role as part of the federal government's highest lawmaking body, which makes laws for everyone in this country, questions about what you believe is the appropriate reach of federal law ought to be expected. And the answers, the answers to those questions sometimes reopen debates that no one anywhere near the mainstream of American politics had any idea were still controversial."
Liberals will certainly be cheering Maddow for her "takedown" of Paul, as they're sure to see it, but equating Paul's position that freedom requires ugly opinions to exist with the ugly opinions he openly condemns while showing graphic, violent images of the civil rights movement isn't all that far from equating, say, President Obama's position that the government has a responsibility to help the impoverished with other people who have claimed the same while showing graphic, violent images of, say, Nazis or communist revolutions that also, in a twisted way, claimed to help the poor. Whether he intended to or not, Paul is caught in the crossfire of a sniper-fight between ideologies and the media institutions that champion them, both sides of which will put all the pawns in play to win the game. That's not to say that Maddow's concerns about Paul are disingenuous– on the contrary, the segment was one of rare sincerity in the cable news world. But it is to say that she cares enough about the issue to make a few stretches in her argument that ultimately weaken it, even if elevating the shock factor.
Maddow's very interesting take on her interview with Rand Paul below:

Have a tip we should know? tips@mediaite.com