Rachel Maddow Uses Props To Demonstrate Absurdity Of Cain's Recent Line Of Defense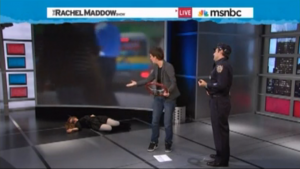 Tonight on her show, MSNBC's Rachel Maddow proved that 1) it doesn't much matter what anchors and hosts wear on the lower half of their bodies if they're mostly sitting behind a desk and 2) there is not a prop that Maddow won't use. Using a steering wheel as a visual aid, Maddow offered an analogy demonstrating the relative absurdity of Herman Cain's recent line of defense. She played a reckless driver who had recently run over a young woman (you can tell the accident was fatal because of the large black X's over the poor victim's eyes) and now finds herself having to explain her actions to a cop. How can I be held accountable for this one little death, Maddow-as-reckless-driver asked, when there are all these, like, live people I didn't hit walking around? This is not unlike Cain's recent assertion that for, every person who comes forward with a harassment allegation against, there are many who think him incapable of such a thing.
RELATED: Jon Stewart Comes Up With A Good Reason Why Cain Should Take A Lie Detector Test
She then highlighted some of the other ways that Cain, his campaign and his supporters (and/or apologists, perhaps) in the media have attempted to undermine, downplay or distract from the allegations against him, referencing Talking Points Memo's lists of "Things That Don't Affect Whether Herman Cain Sexually Harassed Two Women" (part 1, part 2):
– "The lady didn't even work for the company" where Cain was working at the time of her specific allegation.
– There exist cases where women have sexually harassed men.
– There is a machine in place keeping business men from becoming president of the United States.
– People do not like the fact that Cain is likable.
– Barack Obama! Bill Ayers!
– One of his accusers has a son who works at Politico. (Which is not true.)
Maddow then focused on a quote made by Cain's attorney, Atlanta-based Lin Wood: Women thinking of coming forward with allegations of their own "should think twice" about that.
"This is a pretty remarkable moment," Maddow weighed in, "for what it means to be held accountable in America." She then followed up with various snarky-to-derogatory take-downs of Cain's accusers, particularly Sharon Bialek, that have appeared in the press.
Watch the entire segment, via MSNBC:
Have a tip we should know? tips@mediaite.com