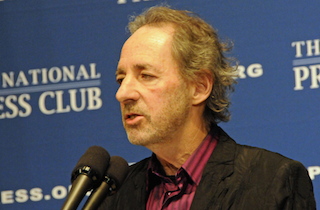 On the off chance you still enjoy the dessicated husk of what was once the greatest show in the history of the medium, happy day! Harry Shearer, the voice of dozens of beloved Simpsons characters, is returning to the show.
Two months ago, Shearer announced he was leaving the show after twenty-six seasons over a contract dispute; he maintained it was not about money, which is exactly what everybody says when it's about money.
Producers swore the show would continue without him, though fans wondered how that was possible given how many recurring characters he voiced, including Ned Flanders, Mr. Burns, Waylon Smithers, Seymour Skinner, Bill Clinton, and more.
On Tuesday, Entertainment Weekly reported Shearer had reached a new deal in which he will earn more than $300,000 per episode for the next two seasons, the same rate as the top-billed voice actors.
It was apparently a close call:
In order for the Simpsons producers to remain on schedule, they commenced production on season 27 without him. (In any case, they already had seven holdover episodes from last season in the can, and those include Shearer's voices.) Jean told EW last month that if Shearer did not change his mind and return, his impressive roster of characters—which also include Seymour Skinner, Lenny, Dr. Hibbert, Kent Brockman, Reverend Lovejoy and Otto—would not be retired; new cast members would be hired to continue voicing those roles. Shearer's deal was completed in enough time to avoid that scenario, and his temporary absence behind the scenes will not be significantly felt on the new season.
UPDATE: This was inevitable:
It appears Harry Shearer was so horrified by my Simpsons impressions he agreed to return: http://t.co/z2CEFLvPQs pic.twitter.com/vHToDfHCXM

— Ted Cruz (@tedcruz) July 7, 2015
Below is a non-exhaustive list of characters Shearer voiced, via the Simpsons Wiki:
Ned Flanders
Charles Montgomery Burns
Waylon Smithers
Seymour Skinner
Dr. Hibbert
Lenny Leonard
Kent Brockman
Scratchy
Kang
Eddie
Otto Mann
Rev. Lovejoy
Rainier Wolfcastle
Jasper
Dewey Largo
Sanjay
Dr. Marvin Monroe
Jebediah Springfield
Marty
Herman
Judge Roy Snyder
Bill Clinton
Clancy Bouvier
Dr. J. Loren Pyror
George H. W. Bush
Nigel
Maggie Simpson (using his Kang voice)
President Arnold Schwarzenegger
Freak Show Manager
Guy who Doesn't Know if He's Sarcastic
London Symphony Orchestra
Pig Guy
Al Gore
John Travolta
Bort (Man)
Skull
Kissing Cop
Toll Booth Man
Guard
Zookeper
Comedian
Cameraman
Phil the Alien
Bank Owner
Sailor
Man on Video
Regular Teacher
Telegram Man
Fat Prisoner
Texan 1
Texan 2
Plastic Surgeon
Man at Graduation
Admiral Mann
Man 1 in Future
Man 3 at Gas Station
Shelbyville Homer
Hugh Jass
Sam (barfly)
[h/t Entertainment Weekly]
[Image via screengrab]
——
>> Follow Evan McMurry (@evanmcmurry) on Twitter
Have a tip we should know? tips@mediaite.com