Reliable Sources Panel Takes On Bachmann Newsweek Cover: "It Was A Very Unflattering Photo"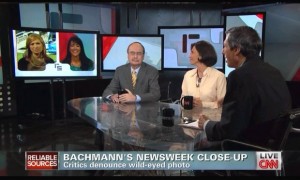 If your name is Michele Bachmann and you are running for president, today is a good day to be you. The congresswoman won the Iowa straw poll, she appeared on every single Sunday news show, and she is steadily building momentum that could lead her to win several primaries in the upcoming election season. So it was only appropriate for CNN's Reliable Sources to revisit that controversial Newsweek cover depicting Bachmann as… as… well, I'm not quite sure, but it wasn't exactly favorable.
While acknowledging that the accompanying cover story by Lois Romano was fair to the congresswoman, Howard Kurtz thought the photo was "very unflattering" and did not seem to buy editor Tina Brown's argument that candidates can come across as both presidential and crazy. The Washington Post's Jennifer Rubin agreed, and suggested Newsweek was not so much sexist as it was based on their philosophy, which happens to see Bachmann as "nuts."
Liberal radio host Stephanie Miller seemed more interested in focusing on the things Bachmann has to say as opposed to a weird photo of her, but then proceeded to bring back "migraine-gate" and treat it as if it was a legitimate story. If Bachmann's words are enough to make her look crazy, why bother with photos or overblown controversies about her headaches?
Politico's Roger Simon said the cover was intended to generate buzz for the magazine, which is ultimately the goal Tina Brown has set for Newsweek. You may find her Princess Diana cover ridiculous, horrible, or some combination of the two, but at least you're talking about Newsweek. Tina Brown is operating under the assumption that any and all press is good press, so therefore there is no such thing as bad publicity.
But really? Doesn't it take away from the substance of the story to have a cover like that attached to what was a pretty fair-minded article? I understand that the news industry needs to seem "edgy" to get new readers at a time when the print industry is growing weaker, but this shouldn't come at the expense of actual journalism. Just saying.
Watch the video of the segment here, courtesy of CNN:
Have a tip we should know? tips@mediaite.com
Josh Feldman - Senior Editor