Rep. Joe Walsh On O'Reilly: Tammy Duckworth's Service 'Demands Our Respect, But [Not] Our Vote'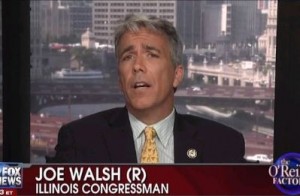 Congressman Joe Walsh got into trouble for this recently when he accused Tammy Duckworth, his Democratic opponent who lost both her legs while serving in Iraq, of talking too much about her injuries, which, at the time, made it seem like that disqualifies her as a "true hero." Walsh immediately walked back his response, and explained today on The O'Reilly Factor that while Americans should respect Duckworth's service, it alone does not qualify her to be a member of Congress.
RELATED: Ashleigh Banfield And Joe Walsh Get Into Screaming Match Over His Tammy Duckworth Remark
Guest host Laura Ingraham asked Walsh straight up if he believes Duckworth is a hero or not. Walsh insisted that he "absolutely" does, further explaining that during the town hall where he made the offending remarks, he took some time to thank all of those who have served this country, Duckworth included. But he did accuse David Axelrod and Chicago mayor Rahm Emanuel of "running her campaign" and said the campaign's been collecting videos of him that have exploded all over the liberal blogosphere.
Ingraham pointed out that Duckworth has gone after Walsh many times, and whenever he tries to respond in kind, he has to be careful lest he be branded as insensitive. Walsh said that the most effective way he can criticize Duckworth is to "treat her like any other candidate," but warned that her military service shouldn't automatically qualify her to be a member of Congress.
"We can't afford to elect anybody this year just based on their bio. Her background deserves and demands our respect, but it doesn't demand our vote. For that, we've got to know what we think you're going to do when it comes to the issues in this country, and for some reason, she doesn't talk about those things."
Walsh said that when Duckworth referred to Tea Partiers as "crackpots," she was insulting everyone in the country who believes in limited government. Ingraham concluded by spelling out Walsh's position on Duckworth: "She's a war hero with whom you disagree."
Watch the video below, courtesy of Fox News:
Have a tip we should know? tips@mediaite.com
Josh Feldman - Senior Editor