Rep. Peter King: Greenwald and 'His Accomplice' Snowden Trying to 'Make the NSA the Enemy'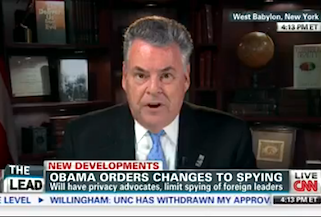 President Barack Obama has faced a barrage of criticism Friday for not going far enough with his "reforms" of the way the National Security Agency collects surveillance data on Americans. But one frequent critic of the president thinks he struck the right tone. Rep. Peter King (R-NY) appeared on CNN's The Lead with Jake Tapper immediately following Tapper's interview with Glenn Greenwald and proceeded to offer up his own criticisms of that journalist and NSA leaker Edward Snowden.
"I entirely disagree with Glenn Greenwald and I really have no respect for him or his accomplice, Edward Snowden," King began. "The key take away from the president's speech today is that basically the NSA program is going to remain in tact." He added that he did not even think any "changes" or "reforms" were called for and seemed pleased that the ones the president did propose were "really minimal."
Given the fact that there has not been a major terrorist attack in the U.S. in over 12 years and that "there has not been one abuse by the NSA," King added, "I really wonder why people like Snowden and Greenwald and others of the Congress and Senate are so intent on making the NSA the enemy, when all they are doing is trying to protect us and doing it within the strictest constitutional guidelines."
Later in the interview, Tapper pointed to reports that NSA agents has used their surveillance tools to spy on their spouses and ex-lovers to show there has, in fact, been some abuse of the system.
Watch video below, via CNN:
[photo via screengrab]
— —
>> Follow Matt Wilstein (@TheMattWilstein) on Twitter
Have a tip we should know? [email protected]