Republican Congressman's Speech On House Floor Met With Standing Ovation, Chants of 'U.S.A, U.S.A'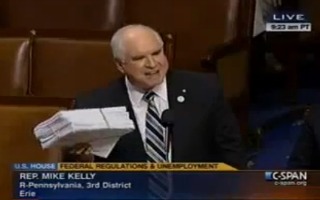 Pennsylvania Republican Rep. Mike Kelly drove the members of the House of Representatives to their feet on Friday with a stirring speech in defense of small business owners and the bureaucracy they have to deal with. In the speech, Kelly took on the state and federal regulations which impede businesses from forming and expanding. When he was finished, Kelly's colleagues cheered and chanted "U.S.A, U.S.A" in a rare display of patriotism in the House.

RELATED: House Dem Leader: We Will Not Let Republicans Fix Typo In Regulatory Bill
"Let me tell you what it's like to be in the real world and not in the Beltway," Kelly began. He went on to describe the difficulties of running the auto body business his father began in 1953.
Kelly described how the costs of various colors of tape was going through the roof – but red tape, he says, costs the American economy $1.75 trillion.
Kelly produced 1,100 pages that the government uses to determine who is a qualified borrower now. "Are you kidding me," a frustrated Kelly asked. "Do you mean to sit here and say that you are serious?"
Finally, Kelly described an incident where he was unable to get a local baseball park renovated because "the mirrors in the restrooms are a quarter of an inch too low."
You want to talk about the thousands and thousands of pages that we put on the backs of job creators? You want to talk about creating jobs in America? when you want to see a nation that doesn't want to participate but dominate the world market, than let them rise. Take the heavy boot off the throat of America's jobs creators and let them breath.
Kelly's speech was met with hoots and cheers from the members of the house.
"You want to have more revenues? Than let the tide rise for all boats," said Kelly. "Let us be able to not only survive but to thrive."
Watch the speech below via C-SPAN:
> >Follow Noah Rothman (@Noah_C_Rothman) on Twitter
Have a tip we should know? tips@mediaite.com