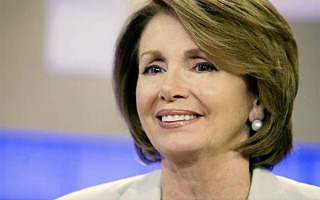 House Minotiry Leader Nancy Pelosi (D-CA) told Bloomberg's Al Hunt in an interview published on Friday that she believes Jewish Republicans are "smart people" but are "being exploited" by Republican leadership.

RELATED: Nancy Pelosi: I Will Release My Tax Returns When I Run For President
Pelosi told Hunt that she believes the President will win the Jewish vote in November.
"I think that he will, because the fact is when the facts get out," Pelosi said. "You know, as many of the Republicans are using Israel as an excuse, what they really want are tax cuts for the wealthy. So Israel, that can be one reason they put forth."
When Hunt said that the issue of Israel was why so many Republican Jews are active and engaged, Pelosi made the case that they are being exploited to advance an agenda that has little to do with Israeli security.
Well, that's how they're being exploited. And they're smart people. They follow these issues. But they have to know the facts. And the fact is that President Obama has been the strongest person in terms of sanctions on Iran, which is important to Israel. He's been the strongest person on whether it's Iron Dome, David's Sling, any of these weapons systems and initiatives that relate to Israel. He has been there over and over again.
The majority of American Jews have traditionally supported Democratic politicians for decades. In 2008, President Obama won 78 percent of the Jewish vote to Sen. John McCain's 21 percent. However, Obama's support among Jewish voters is almost certain to slip in 2012. A Gallup poll from last week shows Obama winning 68 percent of the Jewish vote to Romney's 25 percent. That is down slightly from June, however, when Romney secured 29 percent of the Jewish vote to Obama's 64 percent.
h/t Weekly Standard
> >Follow Noah Rothman (@Noah_C_Rothman) on Twitter
Have a tip we should know? tips@mediaite.com