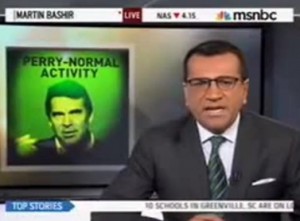 Following a CNN appearance in which his communications director suggested Rick Perry might skip some of the remaining Republican debates, the Texas Governor left that opssibility open, telling reporters in New Hampshire "I don't know if we will forego the debates or not," adding, "There will be a lot of debates. I may get to be a good debater before it's all over."
MSNBC's Martin Bashir reported Perry's comments, and sharp criticism by popular second-tier candidate Newt Gingrich, who asked, "Why would any Republican want to nominate someone who couldn't stand on the same platform with us?"
Bashir also played a debate clip that shows why Perry might want to sit out a few of the gatherings, one in which he tells Michelle Bachmann that he's offended that she's "saying I can be bought for $5,000."
Perry's performance in the debates has been textbook awful, so the impulse to skip a few is understandable. As communications director Ray Sullivan points out, Perry can use the time doing things that play more to his strengths.
However, Gingrich is right that missing debates will almost certainly hurt Perry more than the extra time on the campaign trail will help. With Mitt Romney and Herman Cain in the lead, and the also-rans getting desperate, every Perry-less debate will likely feature soundbite-ready knife-twisting from every quarter. If Perry thinks he looks bad while wilting under attack, how does he think an empty foxhole is going to play?
Besides, Perry has already taken the "bad debater" rap, and the damage points. Even if he still performs badly, is it really going to hurt him that much more?
Skipping debates also deprives Perry of opportunities to slug his way back into the lead. He lost a battle of optics at the last debate when he allowed Mitt Romney to shush him with a Vulcan neck pinch. If Perry's smart, he'll go into Rocky-Movie-Training-Montage mode, and bulk up his debatin' skills.
Here's the clip, from MSNBC:
Have a tip we should know? tips@mediaite.com