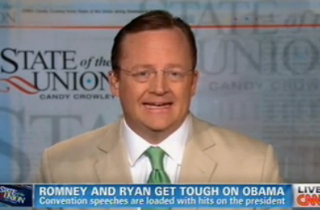 Appearing on CNN's State of the Union with Candy Crowley, senior Obama campaign adviser Robert Gibbs said Sunday that the enthusiasm for President Obama's initial 2008 campaign should not be expected during this re-election campaign.
When asked whether he believes there has been voter "disappointment" in Obama since taking office, Gibbs denied such a thing, adding that "voters understand it took us years and years of tremendously bad decisions by running up huge debts," suggesting voters recognize that the current economic turmoil is, in his view, largely the fault of previous president George W. Bush.
Crowley then pressed Gibbs about the reduced support among Latinos and other constituencies which are, in some cases, down by double-digits from four years ago.
"Nobody is sitting up here saying this is 2008," Gibbs responded.
"What has happened since the election in 2008 and right now, again, is this huge economic calamity caused by a series of bad decisions that were made before the president ever got there," he added.
The former Obama White House spokesperson continued on to concede that the results between Obama and Romney would ultimately be "close."
"This election was always going to be close, because we live in a closely divided country I remind people all of the time that just four years ago everyone was talking about the president's landslide, and he got 53 percent of the vote," Gibbs said. "Let's understand that we live in a very closely divided electorate, and we have for quite some time and this election was quite frankly always going to be close, but it is an important fundamental choice about where we go from here."
Watch below, via CNN:
— —
>> Follow Andrew Kirell (@AndrewKirell) on Twitter
Have a tip we should know? [email protected]