Robert Gibbs Pressed To Defend Reported Cost Of President Obama's Trip To India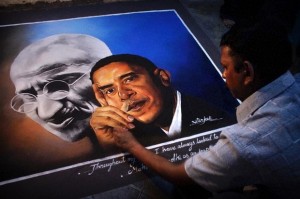 The Press Trust of India reported earlier this week that President Obama's plan trip to Inida would cost US taxpayers $200 Miliion per day during his visit to Mumbai. Though the story did not name a source, according to CBS News "the $200 million claim was credited to 'a top official of the Maharashtra Government privy to the arrangements for the high-profile visit.'" Though the White House claims the cost to have "no basis in reality" it was a hot topic in today's White House press briefing.
First some background; writing for CBS News' Political Hotsheet blog, Brian Montopoli reports:
The claim quickly gained traction on the right, thanks in part to a link on the conservative news aggregator The Drudge Report. Among those citing it is Minnesota Rep. Michele Bachmann, who responded to a question from CNN's Anderson Cooper last night on how she would reduce the deficit by citing the cost of the presidential trip.

"Well I think we know that just within a day or so, the president of the United States will be taking a trip over to India that is expected to cost the taxpayers $200 million a day," she said. "He's taking two thousand people with him. He'll be renting out over 870 rooms in India. And these are 5-star hotel rooms at the Taj Mahal Palace hotel. This is the kind of over-the-top spending, it's a very small example, Anderson."

CBS News asked the White House about the story yesterday, and the White House said in an email that "The numbers reported in this article have no basis in reality."
Lest anyone from right-of-center media outlets get too aggravated by this report, WSJ's Jonathan Weisman
throws some water on anger with the following debunking post:
Snopes.com, a website devoted to myth busting, noted that even if the Indian press has correctly reported the size of the president's entourage – 3,000 – the cost would work out to $66,000 per person per day, "a figure that stretches credulity to the breaking point." Factcheck.org noted that the entire war in Afghanistan costs $190 million a day.

But the report is demonstrably incorrect. It says the White House had blocked off the entire Taj Mahal Hotel in Mumbai – it hasn't – and that the press traveling with Mr. Obama will be staying there. We won't. Besides, the press pays its own way at considerable cost to the media outlets, not the U.S. taxpayer.
Nonetheless, this subject predictably came up in today's White House press briefing, as Fox News' Mike Emanuel asked the first question regarding Obama's trip to India to Press Secretary Robert Gibbs, which opened the door for World Net Daily correspondent Les Kinsolving.
Watch the fireworks that ensue:
Have a tip we should know? tips@mediaite.com