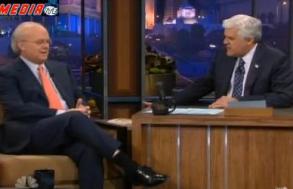 Karl Rove found a new venue to promote his book, Courage and Consequence, last night – The Tonight Show with Jay Leno.
The lighter venue led to mostly serious discussions, including about yesterday's "bondage-themed nightclub" story, health care in general, and some very uncomfortable moments of Rove's early life.
One of the most newsmaking moments came when Leno asked Rove for his take on the RNC charges at Voyeur nightclub, which now appear to have belonged to political consultant Erik Brown. "Somebody ought to lose their credit card," said Rove. "Find that pervert, and get his card."
Rove and Leno also sparred a bit over health care. "I'm all in favor of health care reform, just not the bad kind," he said, before echoing much of what he says on a regular basis during his frequent guest appearances on Fox News. Interestingly, the audience was less stacked than for other GOP guests on Leno (like for Sarah Palin's appearance) – Leno's lines got a much larger applause.
But the early part of the interview was a serious look at Rove's childhood and life growing up, which he previously opened up about on NBC's Today show. He described the meeting between he and his biological father around the age of 19 – which didn't go well – and his mother's suicide when he was 31. In a comparatively lighter moment, he talks about getting beat up by a 12-year-old girl when he was 22 (kidding – he was 9-years-old).
Check out the interview below:


—–
» Follow Steve Krakauer on Twitter
Have a tip we should know? tips@mediaite.com