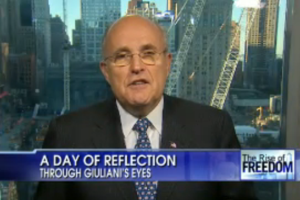 September 11th has become a day of commemoration, reflection, and sharing memories, and this morning on Fox & Friends, former New York City mayor Rudy Giuliani dropped in to reflect on the past nine years in his city, the progress made in lower Manhattan, and the recent scandals surrounding Islam and the memory of 9/11.
Giuliani retold his story to Brian Kilmeade, Gretchen Carlson, and Steve Doocy (all in for the weekend crew to commemorate the day)– he was trapped in lower Manhattan for a while himself, and how the experience made him grow as a person. "You get used to dealing with emergencies" as mayor of New York, he joked, but nothing had quite prepared him for this situation, and the grief, he explained, was gradual in its ebb and flow– "I feel it in different stages, in different times… a day like today is very complex."
He thanks the construction workers who "showed up like the cavalry" to clean up the mess, and lamented, to a certain extent, that "the kind of solidarity– the feeling we had after September 11… unfortunately, as we move away from it, gets lost a bit." The healing process, however, he noted was necessary. He also reiterated his desire to see Ground Zero used exclusively as a memorial site to the fallen– "no office towers, none of this competition for commercial space," like Pearl Harbor, and argued that much of the delay in constructing the memorial was due to confusion about the use of the land.
His entire discussion on Fox & Friends below:

Have a tip we should know? tips@mediaite.com