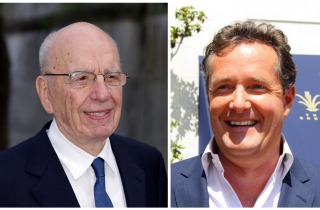 Something of a platonic love, with all its ups and downs, has blossomed between News Corp. Executive Chairman Rupert Murdoch and former CNN host Piers Morgan.
It started early Wednesday when Morgan, an avid tweeter, paid a sudden compliment to Murdoch, who also enjoys posting his musings to Twitter. "I love Rupert Murdoch's Twitter feed," wrote Morgan.
The innocuous comment seemed to offend Murdoch, who replied, "Piers Morgan seems unemployed after failing to attract any audience in U.S. Seemed out of place. Once talented, now safe to ignore."
Whoa. Touchy.
"Thanks Murdoch," shot back a crestfallen Morgan. "I was actually paying you a compliment! I really do enjoy your Twitter feed. But never mind…"
Morgan followed up: "At least Murdoch still follows me – so I don't feel completely ignored."
Perhaps feeling some remorse for his harshly worded tweet, Murdoch soothed Morgan's pain. "Did not mean to hurt Piers Morgan," he wrote some 10 hours later, plenty of time to think about the impact his words had. "Piers a friend and a legend."
A legend, ladies and gentleman.
Morgan's spirits rose and he sent out another tweet, saying he'd "never speak badly of Murdoch" because it was Murdoch who "gave me my first big break and remains the smartest, boldest visionary I've ever worked for."
In his early career as a British tabloid journalist, Morgan worked for several publications owned by Murdoch, the first being The Sun.
The relationship between the two seems to be growing.
Full exchange below:
Love @rupertmurdoch 's Twitter feed.

— Piers Morgan (@piersmorgan) September 10, 2014
Piers Morgan seems unemployed after failing to attract any audience in US. Seemed out of place. Once talented, now safe to ignore.

— Rupert Murdoch (@rupertmurdoch) September 10, 2014
Thanks @rupertmurdoch … I was actually paying you a compliment! I really do enjoy your Twitter feed. But never mind…

— Piers Morgan (@piersmorgan) September 10, 2014
Did not mean to hurt Piers Morgan. Piers a friend and a legend.

— Rupert Murdoch (@rupertmurdoch) September 10, 2014
I'd never speak badly of @rupertmurdoch – he gave me my first big break & remains the smartest, boldest visionary I've ever worked for.

— Piers Morgan (@piersmorgan) September 10, 2014
[Photos via Shutterstock, Wikimedia Commons]
— —
>> Follow Eddie Scarry (@eScarry) on Twitter
Have a tip we should know? tips@mediaite.com