S.E. Cupp Stands With Obama, Smashes GOP Politicians Supporting Cyber Security Bill CISPA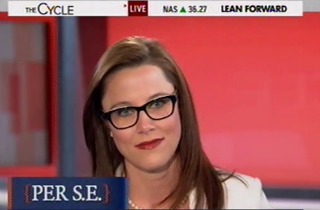 On Tuesday, MSNBC host S.E. Cupp slammed both Republican lawmakers and liberal activists who have remained silent on or supportive of the internet security bill known as CISPA. She praised President Barack Obama who has pledged to veto the bill if it is passed by both chambers of Congress. Cupp said the bill is troubling in that it allows the government access to information which individuals share with private internet service providers. Noting that internet security is a critical project, Cupp warned that security should not come "at the expense of liberty."

Cupp introduced the Cyber Intelligence Sharing and Protection Act (CISPA), an internet security bill which is currently being debated in Congress.
"It's packaged as a national security bill that allows private companies, like Google and Facebook, to share electronic information, like your emails and chats, with the government," Cupp said. "It has also earned the ire of the ACLU."
RELATED: The Case For – And Against – Freaking Out About CISPA, The Controversial Cybersecurity Bill That Passed In The House
Cupp lamented how many Republican members of Congress are supportive of CISPA. "One of whom, Rep. Mike Rogers (R-MI), sponsored the bill and insisted it is not a surveillance project," she said.
"To his credit, President Obama has vowed to veto it," Cupp continued. "Believe me, the irony isn't lost on me that I find myself before you today agreeing with President Obama and the ACLU. The question isn't 'why am I?' The question is, 'why aren't more lawmakers and political activists?"
"Where are the liberals who railed against the Patriot Act and expanding federal powers in response to 9/11?" the MSNBC host asked. "Where are the conservatives who championed privacy, civil liberties, and limited government?"
She called herself a "hawk" and noted that cyber security is of paramount concern to the West. "But that security is increasingly coming at the expense of liberty, and we should all be a little more skeptical when our beloved free society is at stake," Cupp concluded.
Watch the clip below via MSNBC:
> >Follow Noah Rothman (@NoahCRothman) on Twitter
Have a tip we should know? tips@mediaite.com