Limbaugh Celebrates Fox's Ratings Victory, Mourns Death Of 'Left-Wing Liberal Cable News'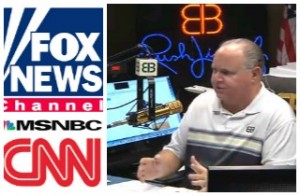 Rush Limbaugh shared the big news with his radio audience today that during the Boston bombing coverage last week, Fox News ranked number one among all cable networks, not just its news competitors. Becoming a media analyst for a few minutes, Limbaugh remarked how "fascinating" it is that a network can reach number one with less than 3 million viewers in primetime predicted what the ratings mean for the future of cable news.
Limbaugh relished the fact that in such a big news week, CNN only reached third place and MSNBC "dropped off the radar" and ended up at nineteenth place. He insisted that this was a momentous shift in the cable landscape because "CNN used to be the go-to network when any disaster or major breaking news occurred." But now that that doesn't appear to be the case anymore, he declared that "left-wing liberal cable news networks are dying."
Limbaugh added that the way CNN and MSNBC are dealing with this problem is by getting more "liberal" and "radical," saying that "every time you turn on" either network they are "promoting the Obama agenda." The only other narrative on Fox's two main competitors, he said, is that "conservatives are wrong."
The one piece of criticism Limbaugh said he expected from his listeners surrounding this issue is for them to say "Fox ain't all that conservative anymore," a point that he said he "understands." He added that it "may be true" that the only "real conservative" left on Fox News is Sean Hannity.
As for his predictions about the future, Limbaugh said that CNN and MSNBC would wear their low ratings as a "badge of honor" and "double-down on liberalism and radicalism." He also predicted that at this week's White House Correspondents Dinner, CNN and MSNBC would be "praised" while Fox News will be "laughed at, impugned, made fun of." He confirmed that he will not be attending this year's dinner, as he has avoided for the past twenty years or more, because "why go sit in a room of three thousand people who don't like you?"
Eventually, Limbaugh addressed John King's statements about his CNN reporting being "embarrassing" last week. "If last week was embarrassing, then every week must be," Limbaugh said, taking a shot at King and CNN, "because last week was not that out of the ordinary."
"They are alienating statistically half of the country, that's a potential viewing audience" Limbaugh said of CNN and MSNBC, apparently making the assumption that the same is not true for Fox. Ultimately, Limbaugh used the Fox ratings to prove his assertion that "radical left liberals" do not make up a majority in this country, despite what some news networks want you to think. The audience numbers for Fox, Limbaugh said, blow that idea to "smithereens."
Listen to audio below, via Rush Limbaugh:
—
>> Follow Matt Wilstein (@TheMattWilstein) on Twitter
Have a tip we should know? tips@mediaite.com