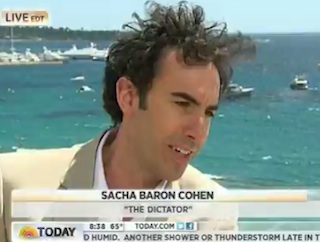 On location for the Cannes Film Festival, The Dictator star Sacha Baron Cohen spoke with the Today Show's Ann Curry in a rare out-of-character interview and candidly divulged his motivations for the movie and revealed he was on the run from terrorists.
Curry quizzed Cohen about why he very seldomly spoke to the media as himself.
"Well, the movies I did up to now, they involved real people," Cohen revealed. "And so we wanted to limit the exposure for lawsuits. At the moment, I think I have the Guinness Book of World Record for being the most sued actor in history. But basically if people saw that I was me, and that Borat was not a real person beforehand, they could injunction the movie and shut the movie down. This is a different kind of movie."
RELATED: Sacha Baron Cohen Apologized To Ryan Seacrest For Oscar Night Ash Gag
Curry asked Cohen what The Dictator was satirizing in particular.
"Well, you know, firstly it's a comedy movie," Cohen explained. "So the movie is there to be as funny as it can be. which is the same with all the movies. but the subject of the satire, of all these preposterous dictators who are feared in their own country and rule using violence and suppression are ludicrous characters. At the moment they're being overthrown. Anything you can do to mock them and undermine that kind of false authority, I think is a positive thing."
"You actually sought out terrorists to figure out how to be that character," Curry noted. "That just sounds so risky?
"That was actually in Bruno…I interviewed a few terrorists, which was a little bit risky, yeah."
"Did it help for The Dictator?" Curry pressed.
"The dictators, usually they fund terrorist groups. But I did do some research for this, yes. i mean it kind of backfired on Bruno because I had a terrorist group came after me and you know, decided to — to seek their revenge. But they haven't got me yet. That's why i'm here hiding in Cannes."
Watch Cohen's rare out-of-character interview below via NBC:

Have a tip we should know? tips@mediaite.com