Scarborough Confronts Clinton Campaign Manager: 'You Can't Answer Basic Questions'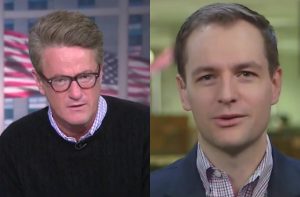 MSNBC Morning Joe host Joe Scarborough got confrontational Wednesday with Hillary Clinton campaign manager Robby Mook after he repeatedly failed to answer questions about the Democratic presidential candidate's foreign policy.
Co-host Willie Giest asked Mook about Clinton's past support of Barack Obama's "red line" against Bashar al-Assad's use of chemical weapons. "She supported the drawings of the red line… was it a mistake to draw the red line if the president was not willing to do something about it when it was crossed?" he asked.
Mook noted that Clinton was out of office by the time Assad did use chemical weapons. "So I think you'd have to ask President Obama," he said.
"Was she disappointed that the President didn't act when the line was crossed?" Geist asked.
"I think you'd have to ask her about that question, how she would characterize it," he responded.
"You're here to speak for her, Robby," Geist pointed out. "Would you care to discuss that at all?"
But Mook said he was more interested in discussing the future, not the past. "As I said, she has a clear plan to defeat ISIS. Donald Trump does not."
A short time later, Mook was again hesitant to ask a question from Mike Barnicle about what Clinton would do about the situation in Aleppo. "Again, I think you're going to have to ask her that question. That's a matter of policy and I'm going to leave it for her," he responded.
Finally, Scarborough butted in. "We love you, buddy, but what are you here for if you can't answer basic questions?" he asked. "I mean, we may be tiptoeing into Gary Johnson territory here if you don't know the answer to that basic of a question."
"I think — look, you're asking new policy questions," Mook responded. "You would have to ask the secretary."
"New?" asked a surprised Scarborough. "Aleppo's been around for — Syria's been around for some time. The red line being drawn has been around for some time. I'm not being difficult here at all, these are basic questions."
"I'm simply saying that she has laid out a plan to defeat ISIS and if there are new questions pertaining to Aleppo, I'm going to need to let her answer those, and she will answer those in the debate," Mook said.
Finally, Geist closed out the interview by asking if Clinton still supported a no-fly zone over Syria. "I'm going to let her statements speak for themselves," Mook said.
"Robby, aren't you here representing her point-of-view?" a bemused Geist asked again.
"I am indeed," he laughed, "and I'm going to let her language speak for itself."
Watch above, via MSNBC.
[Image via screengrab]
—
>>Follow Alex Griswold (@HashtagGriswold) on Twitter
Have a tip we should know? tips@mediaite.com