Scarborough, Donny Deutsch 'Disturbed' By Obama's 'Passivity': 'He Throws You Under The Bus'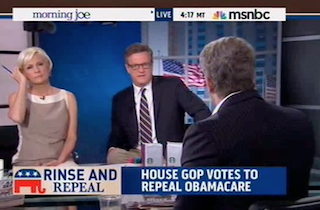 Joe Scarborough & Co. continued dissecting the trio of controversies facing the Obama administration on Friday's show. In one of those discussions, Scarborough revisited a point about President Obama that he's been critical of in the past: His isolation. Both he and Donny Deutsch called out the president's "passivity," finding it disturbing.
Obama keeps everyone at "arms length," Scarborough noted. "If you embarrass him, he throws you under the bus politically."
Because the president has isolated himself, Scarborough argued that Democrats would continue to be tough on him and distance themselves from him during his bumpy ride over second-term speed bumps. "You reap what you sew," Jon Meacham agreed, making an example of Obama's "you have a drink with Mitch McConnell" joke. There little "margin for error" on a "practical human political level" for capital — and Obama is "living on that margin." (And: "The one person who in this whole situation who does not have another election is Barack Obama.")
The subject of isolation and absence came up again as the segment transitioned into a discussion about the umpteenth attempt to repeal Obamacare. Here, Deutsch jumped in, warning that Republicans are likely to overplay their hand here.
"Are you disturbed by a president that says he learns of every bad thing that happens in his administration from reading newspapers?" Scarborough asked.
"I am disturbed by his passivity," Deutsch agreed (arguing that the Obamacare issue still won't stick), prompting Scarborough to remark, with irritation, "How passive can you be?"
Take a look, via MSNBC:

Have a tip we should know? tips@mediaite.com