Scarborough: Independent Conservative Candidate With Lots of Cash to Enter 2016 Race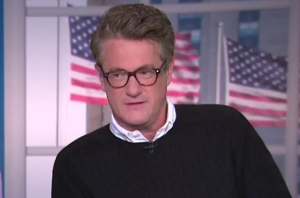 MSNBC host Joe Scarborough said on Morning Joe Monday morning that several sources tell him a well-funded, independent candidate with soon enter the 2016 presidential race with the backing of conservatives opposed to Donald Trump.
"I had multiple sources telling me last night that an independent with a the backing of a lot of Republican money is going to launch today."
Scarborough asked his panel if anyone else had heard those reports (they had not). "I could be wrong… but several good sources told me that people– Republicans from let's just say Never-Trump-land– found somebody and they're going to put good money behind him."
"This is French 2.0," Scarborough said, alluding to National Review writer David French, who was briefly floated as a candidate. "I think it will be in that realm. But, somebody– somebody French-like," he claimed.
"You can get on ballots for up to 300 electoral votes," he noted. "You can bring lawsuits in the other places. I think at this point, the people that are talk about funding this are more interested in Trump losing than electing their candidate."
Scarborough later tweeted more details about his mystery candidate.
The candidate revealed by sources has an impressive resume and the backing of key $$ contributors in the Republican Party.

— Joe Scarborough (@JoeNBC) August 8, 2016
Though he is connected with Republican politics, sources are saying the potential candidate has never held elective office.

— Joe Scarborough (@JoeNBC) August 8, 2016
Watch above, via MSNBC
[Image via screengrab]
——
>>Follow Alex Griswold (@HashtagGriswold) on Twitter
Have a tip we should know? tips@mediaite.com