Scarborough Spars With Sharpton Over Voting Rights: Suggesting 'Racists & Bigots' Still Run Southern States?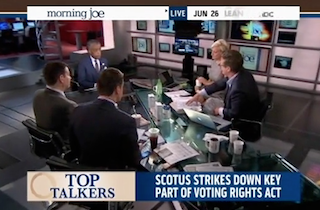 Following news of the Supreme Court decision that struck down a key part of the Voting Rights Act, Al Sharpton paid a visit to the set of Morning Joe where he clashed with Joe Scarborough over the ruling and its implications. Questioning whether people think "racists and bigots" still run southern states, Scarborough sought to present facts and numbers.
For all we heard about voter suppression, Scarborough argued, there was a higher turnout during the last election for African-Americans than ever before. Rules about photo ID and changing early rules is not the same thing as poll taxes and literacy tests, he added, while also disagreeing with the portion of the act that treats a handful of southern states as "racist." They "actually have a more open view on race than a lot of places I've lived in in the northeast," he said.
Now that the court handed the issue off to Congress to fix, Mark Halperin asserted that such a polarized Congress is in no position to make progress on that front. A new map isn't the issue, Sharpton added — but the old map should be kept in place while the new one is created. At what point, Halperin question, do we stop treating these states like they have a "long-standing problem"?
"Does anybody around this table though think that these states are run by racists and bigots in 2013?" Scarborough asked. Yes, they have a history of discrimination, he added, but: "In 2013, let's be very clear. If you're outraged by this decision that Section 4(b) takes the map away, as you say, are you not suggesting that racists and bigots still run government in Arizona, in Alabama, Georgia, Louisiana, Mississippi, South Carolina, and Virginia?"
That's not the argument, Sharpton pressed.
Take a look, via MSNBC:

Have a tip we should know? tips@mediaite.com