Scientist Neil deGrasse Tyson Patiently Explains How Science Works To GOP Businessman On Real Time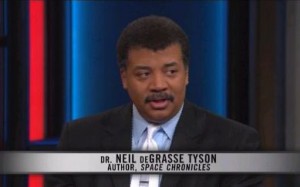 Neil deGrasse Tyson is an astrophysicist and director of the Hayden Planetarium at the American Museum of Natural History. He is the go-to scientist for many late night hosts, including Stephen Colbert and Bill Maher. He is going to be hosting the reboot of the late Carl Sagan's popular TV series Cosmos. These and many other reasons are why you'd want to listen to Tyson when he starts talking about science. And during tonight's episode of Real Time, he patiently tried to explain the science behind global warming.
RELATED: Neil deGrasse Tyson Sympathizes With Newt Gingrich's Moon Mission
Maher brought up the subject to panelist and former GM vice president Bob Lutz, bringing up Lutz's previous comments insisting global warming is a "total crock of sh*t." He argued tonight that abnormal weather patterns have been "a fact of life" all throughout human history. Maher challenged Lutz on this by citing the "overwhelming consensus" in the scientific community on global warming. Lutz denied such a consensus existed, and Maher responded by saying that Lutz was "in the bubble."
Now, at this point in the segment, I was practically yelling at the TV, "There's a scientist right next to you! Let him speak, damn it!" And right on cue, Maher turned to Tyson to let him explain global warming science. Tyson explained that throughout history, human beings have slowly but surely come to accept certain scientific principles as truth after first denying them, then claiming they are in opposition to religious doctrine. Maher suggested the United States has gone backwards from the Republican party acknowledging its existence but merely having a difference of opinion on how to solve it to flat-out denial.
Tyson cited differences in the behaviors of animals and plants, saying that "nature already knows the answer to what everyone is arguing about. That's how I get my cued." Lutz rebutted Tyson's argument by saying that predictions made in the 90s about global warming have not come true, which had absolutely nothing to do with what Tyson was saying. He also insisted that science doesn't operate on consensus, which Tyson shot down by saying that science does, in fact, operate on consensus, just on the consensus of experimentation. And Tyson had a little experiment of his own to suggest to Lutz.
"You take all the scientists who author these papers, get them to pool their money and invest in companies that would benefit from global warming. And take all the people who are in denial of global warming, take all their money and invest in companies that would presume there is no global warming. And I would predict… you will all go broke in the next 50 years."
And when Lutz and Maher were about to get into an argument about the last decade being the hottest on record, Tyson didn't bother taking sides, saying both men could be correct because they're not necessarily talking about the same thing.
RELATED: Rick Santorum On Why He's Most Electable: I Didn't Buy Into 'Global Warming Hoax'
I'm not a scientist, nor do I have that thorough of an understanding of scientific theories. But when it comes to issues of science, I tend to trust the opinions of scientists who actually study these things. If we're going to talk about health care or global warming or, say, astrophysics, the people you need to get on the phone first are scientists, not pundits. There was a New York Times column a few weeks ago by John Allen Paulos asking why we don't elect more scientists. It's obviously important to have lawmakers in institutions where law is made, but you also want people who know what they're talking about.
Watch the exchange below, courtesy of HBO:
Editor's note: This post has been edited since it's original posting – Jon Nicosia
Have a tip we should know? [email protected]
Josh Feldman - Senior Editor