Sen. McCaskill Blasts The Guardian's NSA Reporting: They Have An 'Agenda,' Distorting The Facts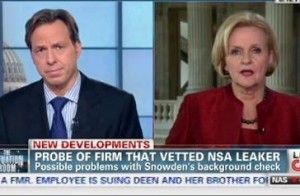 How seriously are Democrats taking the ongoing NSA surveillance scandal? Well, you've got people like Ron Wyden, who have been speaking out about these issues for years, on one side, and on the other side, you've got Dianne Feinstein and Claire McCaskill. McCaskill appeared on CNN today with Situation Room guest host Jake Tapper to explain what action Congress is taking to increase the amount of oversight to make sure this kind of thing doesn't happen again. Not the massive surveillance, the leaking of said surveillance. McCaskill also attacked The Guardian, the newspaper that's been highlighting the programs, for having an "agenda" and for its supposed "distortion" on what the programs do.
RELATED: Ari Melber Trashes Obama, Washington For 'Orwellian' Defense Of 'Transparent' FISA Courts
McCaskill said in a hearing today that there is an investigation into the contractor that conducted a background check into whistleblower Edward Snowden. Tapper asked her why any American should feel comfortable with people getting poorly vetted having access to their personal data. McCaskill said that was the point of her hearing today, calling it "a big black hole in terms of oversight" and reassuring that by making sure that contractors properly vet people, Americans should feel more relaxed about an entire intelligence agency collecting massive amounts of their personal data. Shouldn't that maybe be a slightly bigger oversight concern?
To his credit, Tapper brought up The Guardian's latest report on the NSA being able to access information without warrants, which basically contradicts the flat-out denials by President Obama and members of his administration. Tapper asked McCaskill if that lack of oversight troubles her as well. McCaskill hesitated, admitting that making the program too transparent (which is different from oversight, but whatever) means that "some of it becomes ineffective in getting the bad guys." She allowed that maybe there should be a little more oversight, and then proceeded to undermine the Guardian report by going after their credibility as a news source.
"I think The Guardian has an agenda. I respect the fact that The Guardian is putting this information out there and that it's been leaked, I get that's a role of journalism. But, at the same time there's been an awful lot of distortions around the facts of this information that's come to light and an awful lot of context that's been missing."
Tapper brought up McCaskill's dismissive line of argument that the government is collecting less data than sites like Amazon and Facebook. She explained that there's a difference between just collecting data on a huge NSA server and "behavioral marketing" by sites that want to sell you things. And while McCaskill may think this is enough to assuage people's concerns, there's a bit of a difference between our data being in the hands of private companies and being in the hands of the federal government.
Watch the full segment below, courtesy of CNN:
h/t POLITICO
—–
Follow Josh Feldman on Twitter: @feldmaniac
Have a tip we should know? tips@mediaite.com
Josh Feldman - Senior Editor