Sen. McConnell: Making Obama A One-Term President Is My Single Most Important Political Goal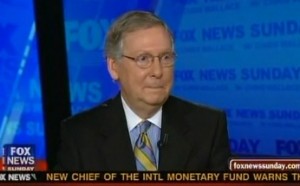 Although Republican Senator Mitch McConnell was slightly unsure whether any of his Republicans colleagues seriously don't want to raise the debt ceiling, he was on much firmer ground regarding his own future political goals. On Fox News Sunday, Bret Baier asked him if he stands by his previous statement that "the single most important thing we want to achieve is for President Obama to be a one-term President." McConnell confirmed that his goal remains unchanged.
McConnell elaborated slightly explaining that it is still his goal to prevent Obama's re-election, but for the rest of this year something else takes priority:
"Well that is true, [making Obama a one-term President is] my single most important political goal along with every active Republican in the country. But that's in 2012. Our biggest goal for this year is to get this country straightened out, and you can't get this country straightened out if we don't do something about spending, about deficit, about debt and get this economy moving again. So, our goal is to have a robust vibrant economy that will benefit all Americans, and that's why I think this debate that we're having right now is so important to our country's future."
If Obama thinks making a deal with Republicans is difficult now, when McConnell isn't prioritizing the end of Obama's political future, just imagine how hard (or impossible) it might be for both sides as the 2012 election draws even nearer.
Watch the clip from Fox News below:

Have a tip we should know? tips@mediaite.com