Sen. Mitch McConnell Talks Bipartisanship: 'There Are Actually Things We Agree On'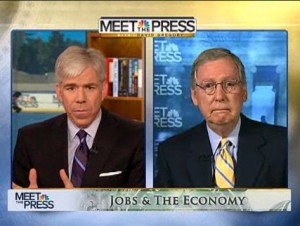 On Meet the Press today, David Gregory asked Senate Minority Leader Mitch McConnell if Republicans working with Democrats in the newly-created "super committee" will be open to compromise solutions to stabilize the economy in the coming months.
Gregory played a clip of Speaker John Boehner taking the GOP hardline on tax increases. McConnell did not directly address that particular issue, but acknowledged that despite the media depiction of the caustic DC culture, "there are actually things we agree on." He touted a budget control act passed by both parties, and recent Congressional action on FAA funding, a contentious issue for legislators in the past few months.
Of course, Gregory asked his initial question again about any possibility of a budget compromise where Republicans could actually agree to some tax increases. McConnell said he was in favor of tax reform, and suggested a complete review of the tax code is in order for this Congress. Gregory still wasn't satisfied with the answer, and framed it through a more political lens, wondering if Republicans would really want to compromise with a president whose ousting McConnell once described as "my single most important political goal along with every active Republican in the country."
McConnell argued Congress could still get a lot done before the election next year, and cited historical partnerships Presidents Ronald Reagan and Bill Clinton made with their opposition to bring about significant financial reforms. McConnell also remained hopeful that whatever ends up passing the Senate will ultimately be signed by the president.
Watch the video below, courtesy of NBC:
Have a tip we should know? [email protected]
Josh Feldman - Senior Editor